Paperless Coupons Offered to AmEx Members
The days of bulky, coupon-packed wallets are soon-to-be far and few between as LevelUp introduces paperless coupon options. The new feature will be offered in conjunction with American Express and will work as customers use their AmEx cards to purchase the item of the deal being offered.
Levelup, a competitor to many daily coupon sites such as Groupon and Living Social has launched this new feature to bring a competitive advantage to the company.
In order to have this feature work on your card you must first connect your American Express Card (NYSE:APX) to your LevelUp account, once connected you will gain instant eligibility to countless deals offered. The way the service actually works is by purchasing the deals offered by merchants. Once a deal has been bough it is automatically applied to your account skipping the part where you need to show a merchant proof of coupon.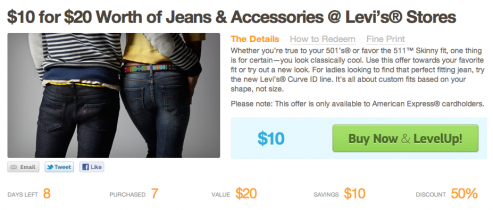 A key factor to these discount sites is the types of merchants they pair off with, and it looks like LevelUp isn't doing too bad. So far, Levis has announced that they will be using the service to provide customers with savings. The differentiating factor of LevelUp is that the model is built upon repeat visitors by unlocking better deals as customers redeem their coupons. The deals work in a three-tier savings level.
For the Levis customers who decide to take advantage of the initial $10 for $20 Levis saving deal, they will then be eligible for a $10 for $30 deal at level 2, and then finally a $10 for $50 at level 3. Unfortunately, LevelUp is currently only offered in Philadelphia, Boston and San Francisco but the company has plans to expand to other cities.
AmEx continued push into Social
This announcement comes off the heals of their partnership with popular social check-in start-up Foursquare. Back in March, American Express and Foursquare debuted an integrated feature that allowed attendees to link their cards with their foursquare accounts to receive deals and offers at interactive / music festival SXSW.
American Express is taking a unique approach to entering the social space, as they continue to position the brand and cards as the premium product for users of these social tools. To date, American Express is the only financial institution to make this move. No studies have been preformed to prove if it is paying off in the way new applicants.
As consumers continue to shift to the social coupon, mobile lifestyle, many reports speculate how mobile purchases will play a role. We think American Express is taking the right approach of allowing users to link their accounts to force users to use their AmEx cards when completing the purchase. We are seeing this motivation to link deals to cards consistent with Merchant Reward programs.
What do you think? Would you sign-up for an American Express Card to capitalize on these types of deals?
Ask a Question