Capital One Signs Up For Mobile Check Deposits
Many tech-savvy Capital One customers will have reason to celebrate soon. Mitek Systems has unveiled Capital One's plan to launch a mobile check deposit feature on smartphones.
Capital One (NYSE: COF) has signed up with Mitek Systems, a leading developer of mobile-imaging applications for smartphones, to develop a mobile check deposit feature.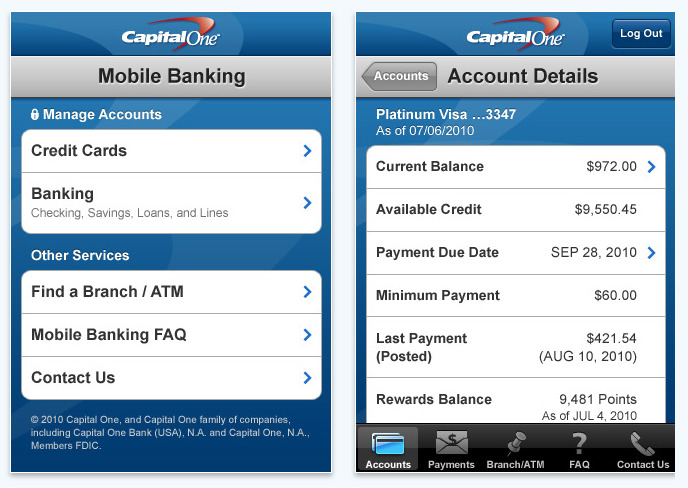 Mobile check deposit allows customers to deposit a check simply by using a smartphone's camera to take photos of the front and back sides of a paper check. Customers won't have to visit a local branch or ATM to deposit a check.
Mitek announced last month that 26 other banks have signed up for the company's Mobile Deposit product. Mitek has already worked with JPMorgan Chase to develop the highly acclaimed QuickDeposit feature on the iPhone, iPad, and Android devices.
The company has also collaborated with U.S. Bank, which has remote deposit capture for its iPhone app and at-home scanners.
Capital One and Bank of America® were the latest banks to enter agreements with Mitek, according to the company's second-quarter 2011 earnings report.
"Mitek is very pleased to add Bank of America® and Capital One Financial as Mobile Deposit customers through our channel partner NCR," said James D. DeBello, president and CEO of Mitek Systems.
Bank of America® has an app for the iPhone, Android, and BlackBerry devices and plans to launch the mobile check deposit feature on "the most popular mobile platforms" in the second quarter of 2012.
Read: Bank of America®: Mobile Check Deposit Feature Expected to Launch Q2 2012
Currently, Capital One only has a native iPhone app and there are no details regarding the development of apps for other popular mobile platforms.
Additionally, the bank has not revealed any information of the time frame the mobile check deposit feature.
A Capital One spokesperson did not immediately reply to a request for comment.
Ask a Question