PerkStreet Pledges to Give Over $1 Million Back to Customers
The numbers are in and it's official: PerkStreet now serves more than half the banks and credit unions throughout the nation. After just over a year of launching, PerkStreet has decided to celebrate its success by rewarding the people responsible for it.
With a little over a year under its belt, PerkStreet Financial has demonstrated that it is a company that is here to stay. For those unfamiliar with PerkStreet Financial, it is a FDIC-insured financial institutions that offers online checking accounts to fiscally responsible consumers.
To learn more about PerkStreet and what it has to offer, visit the PerkStreet Financial Profile Page on MyBankTracker.com.
PerkStreet Increases Rewards
In order to celebrate quadrupling its customer base over the past 6 months PerkStreet has pledged to give back "over a million dollars" each year to its customers. According PerkStreet Financial COO, Jason Henrichs, "The massive amount of cash we give back to customers combined with our transparent approach to the consumer relationship is fueling our rapid growth."
PerkStreet Financial has already begun planning the ways they will be giving back to their customers including:
Increasing cash back amounts
Investing in online tools that will help customers calculate ways to save more money
Expanding the financial services offered on the site
PerkStreet prides itself on being the only debit card in the world that offers such high cash back incentives, which will soon be even higher.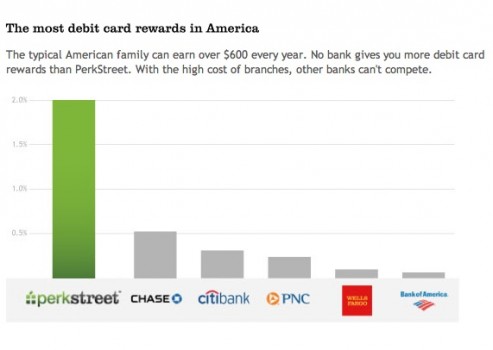 There are two major reasons why the company can account for this kind of growth and reward its customers at the same time. The first factor—and reason most online financial institutions are flourishing—is the elimination of banking branches. PerkStreet claims to save a whopping 70% of what a typical bank pays to stay in business.
The second factor is due to investors support. PerkStreet has made a total of $15 million in their two investments from private equity firms, Globespan Capital Partners and Highland Capital Partners. According to Dan O'Malley, PerkStreet CEO, these investments will help PerkStreet "continue to build a powerful, independent company with the strength to take on the big banks — and win."
Ask a Question