The AARP Visa Card from Chase is offering one of the best introductory cash back rates available at 5% for all purchases – and you don't have to be a senior to apply for one.
Chase and AARP, a nonprofit organization that dedicates resources towards improving the quality of lives of people ages 50 and over, partnered to offer the AARP Visa Card – a very attractive cash back credit card.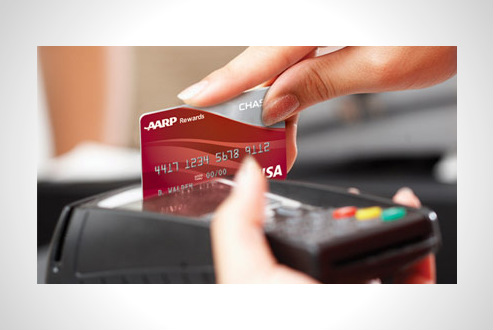 Chase has pledged to donate $0.03 for every purchase made and $1 for every new account opened in 2011 and 2012 – up to $2 million per year. The donations will go towards Drive to End Hunger, an AARP effort to end senior hunger nationwide.
AARP Visa Card Details
The AARP Visa Card requires AARP membership, which can cost as much as $16 per year.
0% intro APR for 12 months on purchases and balance transfers, variable rate of 13.24% to 19.24% thereafter.
Get 5% cash back on all purchases for the first 6 months.
Earn 3% cash back on every $1 spend on eligible travel-related purchases.
Earn 1% cash back on all other purchases.
No annual fee.
Cash back is earned through points – 1 point is equivalent to $0.01 cashback. In addition to cash, points can be redeemed for gift cards, statement credits, AARP Foundation donations, and the AARP membership fee.
Like many other credit cards on the market, the standard price, purchase, return, and extended warranty protections are included.
Card Analysis
Try finding any other credit card that offers 5% cash back on all purchases – you won't find any. But, the AARP Visa card cannot support that rate for long as it only lasts for the first 6 months. New members may be inclined to go on a shopping spree once they receive their cards.
Afterwards, it is still a rather rewarding travel cash back credit card with 3% cash back on travel spending and an industry-standard 1% cash back on everything else.
The 0% introductory APR for 12 month on purchases and balance transfers is also a very attractive for anyone looking to consolidate debt. With a relatively high post-introductory APR, cardholders should refrain from carrying a balance on this card.
The biggest concern to getting the AARP Visa card is the required membership to the organization. Applicants do not need to be at least 50 years old to become an AARP member. Almost anyone can sign up to become an AARP associate member and still qualify for the card.
Membership rates are as follows: $16 for 1 year, $43 for 3 years, and $63 for 5 years.
Because of the tempting 5% cash back, many new cardmembers are not looking to hold onto the AARP Visa card for the long-term. On the other hand, frequents travelers would reap plenty of rewards down the road.
Interested in signing up for the AARP Visa Card from Chase? Click here.