Discover and PayPal Presents Money Messenger
Discover cardmembers now have a new Money Messenger feature that will allow them to directly pay or send money to PayPal users.
Discover (NYSE: DFS) partnered with PayPal, the electronic payment system under eBay Inc., to introduce the Money Messenger service for easy person-to-person payments and transfers.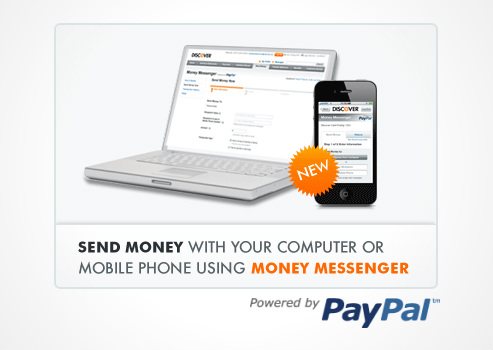 A Discover cardmember can send money just by entering the recipient's email address or phone number while logged into Discover.com on a computer or through the Discover app on a mobile device.
The recipient would have to sign into his or her PayPal account to claim the money. The amount is charged to the Discover card just like a purchase, which means rewards earnings.
The Money Messenger service is free but PayPal may charge a transaction to accept the money if it was sent to pay for goods or services.
Money Messenger is slightly more convenient to the process of adding a Discover card to a PayPal account and sending money through PayPal – cardmembers will still earn rewards and the same fee structure applies.
The Discover cardmember does not have to have a PayPal account but the recipient must have a PayPal account or sign up for one. The recipient need not be a Discover member.
With Money Messenger, Discover members can send money to split a dinner bill with friends, pay a seller from Craigslist, or gift money as a birthday present among an infinite number of other uses.
During a PayPal event in October 2010, PayPal X was introduced as a new platform for people to send money. The e-commerce giant announced that the payment product would be incorporated with the banking platforms of USAA and Discover.
Read: PayPal Wants to Control Money Movement
Currently, only eligible Discover accounts may use the Money Messenger service – Business, Corporate, and Titanium cards cannot use the feature, yet. Discover will be looking to expand the service.
If you want to register for Money Messenger, click here.
Ask a Question