Michaels Customers: Check Your Account Statements If You've Used Your Debit Card
Arts and crafts retailer Michaels Stores Inc. has become the latest corporate victim of an identity theft scheme that's potentially compromised the debit card information of countless customers across its 964 U.S. store locations.
The most recent information released by the Irving, Texas-based retailer this past Thursday indicated that exposed PIN pad transactions occurred between February 8 through May 6—the day that the retailer began disabling the tampered devices.
According to information released by the retailer earlier this month, the security breach affected less than 90 individual PIN pads, which represents just 1% of the total devices it has in its store locations. Despite this, the retailer said it had removed roughly 7,200 PIN pads from its store locations.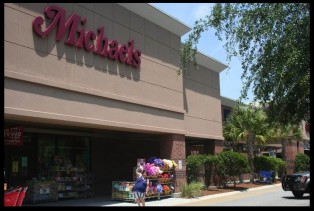 While the fraud scheme affected fewer than 100 U.S. customers so far according to information gathered by the U.S. Secret Service, the company said it would also be screening PIN pads in its Canadian store locations as a precaution. Credit card information may also have been compromised though no consumer complaints have been filed as of yet.
The fraud scheme affected dozens of store locations in Colorado, Iowa, Illinois, Massachusetts, North Carolina, New Hampshire, New Jersey, New Mexico, Nevada, New York, Ohio, Oregon, Pennsylvania, Rhode Island, Utah, Virginia and Washington.
"We are confident Michaels stores are a safe place to shop," said the company's CEO John Menzer in a statement. "We want to express how deeply we regret any issues experienced by our loyal customers who have been affected in any way, and thank all our customers for their support."
Michaels first alerted its customers to the debit and credit card fraud threat on May 4, when it announced that it had learned that PIN pad tampering had potentially occurred in its Chicago-area store locations. At that time, the store warned customers who had made purchases using either a debit or credit card to review their bank and credit card statements for suspicious activity and to change their PIN number and account security settings.
If you are a customer of Michaels that's recently used a debit or credit card to make a purchase and think you may be a victim in Michaels PIN pad tampering event make sure to immediately notify your card issuer as well as the appropriate enforcement authorities.
Learn: Victim of Identity Theft or Fraud: Now What?
Ask a Question