BancVue: Challenging the Traditional Banking Market One Credit Union, Community Bank, At a Time
The financial crisis did little to improve to popularity of the U.S.'s largest financial institutions, especially after it took billions of dollars in taxpayers funds to stabilize the nation's banking system. Yet, as the popularity of the nation's traditional banks took a hit, credit unions and community banks have flourished as the alternative place to place their funds and grow their cash.
There are a total of 8,268 credit unions in the United States that control over $750 billion in assets according to the National Credit Union Administration. The Independent Community Bankers of America estimated earlier this year that there are more than 7,000 community banks across the country, while those with assets of less than $10 billion made 58% of all outstanding small business loans.
What's even more interesting about community banks is that their number has continued to grow in the United States while the total number of banks at-large has decreased. One thing is definitely certain: both credit unions and community banks are definitely here to stay, and one company, BancVue, is here to make sure these financial institutions can provide their customers with services that can meet the needs of their clients.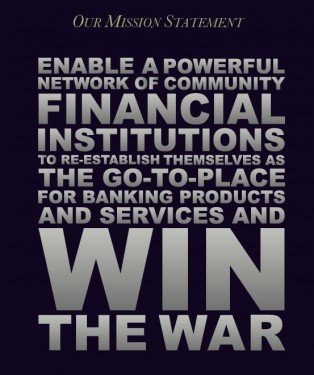 BancVue: Helping Small Financial Institutions Gain Traction Against Big Banks:
Part of BancVue's business goal is to "win the war." One doesn't necessarily equate community banks and credit unions with war, but in the context of their fight for dominance against big banks the statement becomes much clearer. The company's CEO, Gabe Krajicek, further augments the persistent struggle community banks and credit unions face against traditional banking institutions. From accounts and card services, to online marketing assistance to online and mobile money management tools, BancVue says its services have supported the growth of community banks and credit unions at a time when a number of the nation's banks have suffered in through the financial crisis.
Since it was formed in 2004, BancVue says its helped to fuel the growth of more than 1,300 community financial institutions across the country that have utilized its various services, which include tools to help credit unions provide the most cutting edge services to their customers at the lowest costs.
Some of its most prominent clients include Ocean Communities Federal Credit Union, the Bank of Idaho, Jeff Davis Bank and City National Bank. The company has also boasted to have grown the number of account holders with community banks and credit unions by over 1.8 million since its inception, while its online marketing tools have boosted the online marketing have generated roughly 3.8 million visits per month for its clients.
"As people's trust in megabanks reaches all-time lows, community banks and credit unions are poised to once again claim their proper place" said the company's CEO Gabe Krajicek in a company statement. "With product innovation that meets the changing needs of our industry, we are ready to face the new decade with courage and purpose."
In addition to its banking tools, BancVue's services includes a financial literacy component, called MoneyIsland, which was developed to aid small financial institutions provide parents with tools to teach their children about personal finances in a fun way. To date, the company claims that MoneyIsland is currently the only customized online financial literacy tool made exclusively for community banks. More recently, the service won the Best of Show award at this year's FinovateSpring 2011 conference in San Francisco.
While credit unions and community banks still have yet to enjoy the kind of influence over the U.S. banking industry seen by traditional banks, companies like BancVue continue to play a vital role in their creation.
Read: Credit Unions: What You Should Know
Check out: Big Banks Face Competition from Credit Unions, Community Banks
Ask a Question