Bernanke: Small Bank Failures May Result from Debit Card Fee Rules
Fed Chairman Ben Bernanke says that smaller institutions could fail if exemptions from the debit card fee caps do not safeguard their profits.
Federal Reserve Chairman Ben Bernanke expressed alarming concern over the future health of small banks despite excluding these lenders from the proposed debit card transaction fee limits.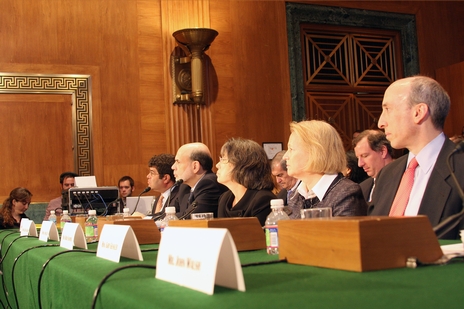 Following a testimony in Thursday's Senate Banking Committee hearing in Washington, Bernanke said in response to a question, "[The new rules are] going to affect the revenue of the small issuers, and it could result in some smaller banks being less profitable, or even failing" if the exemptions do not work.
As part of the Dodd-Frank Financial Reform Act, the Durbin Amendment will enforce federal rules that caps debit card swipe fees from 7 to 12 cents per transaction, a drastic decrease from the current 44-cent average.
…it could results in some smaller banks being less profitable, or even failing.
Financial institutions with assets of less than $10 billion are exempt from these debit card transaction fee limits.
Senator Jon Tester (D-MT) called for a two-year postponement to the new rules, which a 12-month study is conducted to examine the effects of the new legislation.
Read: Senate Bill Proposal to Delay Fed Debit Card Fee Rule
Bernanke said that the Fed has received over 11,000 comments on the rules. The final proposal was scheduled to be established by April 21 but the Fed has missed that deadline. The central bank is expected to finalize the legislation in the coming months and they'll take effect on July 21.
Ask a Question