How to Travel by Air On Your Bank's Dime
Air travel can be expensive, but what if you could earn travel miles without even leaving the ground? Travel hacking has become a growing trend among the money-conscious, and even some businesses are making their mark by providing travel hacking services to willing travelers.
Travel hacking has become all the rage among travelers with the goal of incurring the least out-of-pocket expenses as possible, and involves a little bit of patience and cunning for those involved.
Travel hacking involves finding credit card, checking account and other banking promotions offering air miles for new customers. Once you've met the credit card issuer's terms for receiving your miles, you then simply cancel the corresponding account. After accumulating enough points, a travel hacker will then rest assured knowing they paid absolutely nothing for their plane tickets and other accommodations.
Travel hacking has yielded enough positive results to have exploded amongst travelers around the world and has become the subject of dozens of blogs and news reports across the nation and the world.
One blog, Narrowbridge.net, recently chronicled the travel hacking experience of a man named Eric, who was able to earn two free round-trip flights to Europe simply by opening a British Airways Chase Visa credit card (which earned him is first 50,000 points), and spending $2,500 within three months of opening the account (which earned him an extra 50,000).
Eric noted in his post that he doesn't usually spend $2,500 per month and did so exclusively for the purposes of earning his extra points. Prospective travel hackers should also consider that the easy of Eric's travel hacking experience isn't necessarily the norm, either.
Many banks offer much lesser denominations of airline points and would therefore require travel hacking hopefuls to open several new accounts to rack up Eric's points.
You Want to Travel Hack—Now What?
Congratulations to you for making the decision to walk the road less traveled. Good luck as well, because you'll definitely have your work cut out for you.
For one, finding the time to search for the banks offering free miles to new customers can be tricky, though sites like MyBankTracker.com certainly make the process easier by aggregating bank deals that fit the mold. Once you've found the cards of your choice, you'll then have to abide by their often onerous terms before you're able to amass you miles or points.
If, however, you'd rather outsource some of that work then you do have options. One company, called Travel Hacking Cartel, is there to do just that. While the company's service's aren't free, Travel Hacking Cartel does offer what it calls the 'world's greatest guarantee'—which basically promises you one free ticket every three months.
You'll, of course, still have to do your own homework as a Travel Hacking Cartel customer which, according to the site, includes spending at least 30 minutes a day "working the system". And, if you don't reach your mileage goals then the company will take your word for it and comp you to use its services for extra months.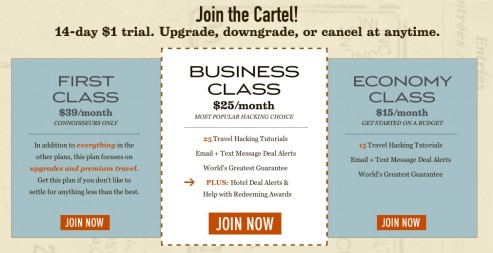 Travel hacking, of course, doesn't come without its own risks and requirements. Since the process involves opening multiple accounts, you'll need to have decent credit to even get the process going. If your credit is good enough for you to be successful at it, then don't expect it to stay that way since opening and closing accounts can damage your credit score.
Still, when all is said and done, how great is would it be to fly the world for free on your bank's dime?
Carolyn Okomo is a personal finance writer and the Tuesday columnist for MyBankTracker.com. You can follow her tweets @CarolynMBT
Ask a Question