Wells Fargo: Wachovia Conversion to Complete by October
Wells Fargo's latest announcement has been a long time coming considering the company completed their negotiations to acquire Wachovia over three years ago. One of the largest institutions in the U.S announced its plans to complete the entire transition from Wachovia by October.
Wells Fargo (NYSE: WFC) expects to finish converting the remaining mid-Atlantic Wachovia branches to Wells Fargo by mid-October 2011.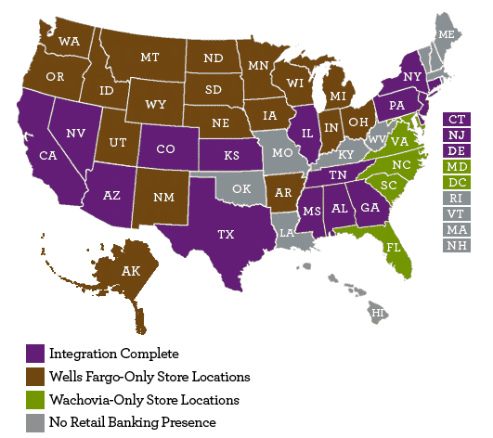 Virginia will be converted in August, while Maryland, South Carolina, and Washington, D.C., will be converted in September. The last state that will go through a conversion is North Carolina which will take place sometime in October.
The four states and the nation's capital account for 868 branches and 1,487 ATMs that will be rebranded as Wells Fargo.
Florida's 690 branches and 940 ATMs are scheduled to be converted in June and July of 2011. Wachovia branches and ATMs at all other locations in the U.S. are already sporting the Wells Fargo brand.
"All along, our goals have been to do these conversions as smoothly as possible and to deliver continuous service to our customers before, during, and after the transition," said Pete Jones, regional president for Mid-Atlantic Community Banking. By taking its time Wells Fargo was able to makes sure the conversions were done effectively and correctly.
"For now, it's business as usual for our customers in the Carolinas and Mid-Atlantic. They will receive complete details on what to expect well in advance of any changes."
San Francisco-based Wells Fargo, the fourth largest U.S. bank by deposits, agreed to merge with the North Carolina-based Wachovia on October 3, 2008 during the middle of the financial crisis. The deal allowed Wells Fargo, which was dominant in the West and Midwest, to extend its presence in eastern and southern United States. The acquisition officially reached a close on December 31, 2008 and has become famous as the largest bank merger in U.S. history.
Ask a Question