Why Chase Continues to Update iPad App
Pioneering the mobile banking application service and setting the standard for innovations is a brand that every bank is competing for, and clearly the next great frontier is the iPad.
With constant technological developments, banks must be innovative in their designs. Having an iPhone app is not enough anymore, as Chase (NYSE: JPM) determined by developing the first mobile banking app specifically for the iPad, just a short time after Steve Jobs rolled it out.
Chase also updated their mobile iPad app with Quick deposit.
Although in its rudimentary form the app was basically an expanded version of the iPhone app, it was important because an iPhone app running on the iPad is displayed in a small window the size of an iPhone. Users can press a button to double-size the app, sacrificing image and text clarity and pointing out the bank's blatant failure to take full advantage of the beautiful iPad screen.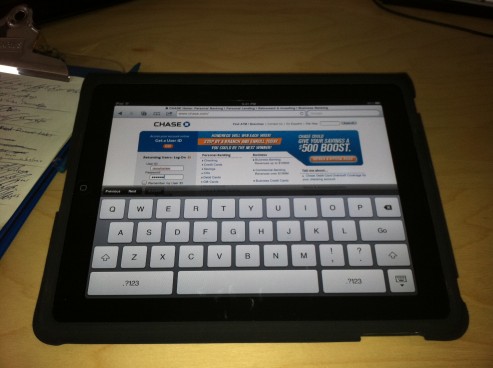 Most iPad owners will have to settle for banking with the web browser in lieu of an app because currently, most big financial institutions including Wells Fargo and Capital One do not have an iPad specific app.
Chase, along with USAA and a few banks, decided that iPad banking apps are both relevant and important. Why use the website when you can download a tool designed for the device you are using, which by they way is significantly better than your iPhone app?
As most people are probably aware, an iPad is rarely an "essential" buy; it is for people looking for the ultimate user experience. Thus, its apps have the tremendous potential of aggregating all of a company's technological resources into developing the most user-friendly and attractive tool to take advantage of their services.
With Bank of America® (NYSE: BAC) not even rolling out Quick Deposit for their iPhone app until next year, getting ahead of the game in every way can definitely push a bank into the next level of technological development. iPad apps may even be for banks, what the iPad itself was for Apple; something with huge potential.
Ask a Question