Coupon Clipping of the 21st Century
After participating in Finovate Spring 2011, a two-day conference introducing the latest technological innovations within the financial realm our heads were spinning with all the potential. Although it is impossible to go over every emerging product, we wanted highlight some standout companies from the conference.

The age of rifling through your purse or wallet for a coupon, considering you have not already misplaced it last week, is becoming a thing of the past. Companies such as BillShrink, Bankons and Edo Interactive have developed programs, both online and mobile, to help people save money on everyday purchases. However, with so many products out there offering similar advances in the field, it is only a matter of time when we find out which products are invaluable and which are superfluous.
BillShrink StatementRewards
BillShrink began with a vision to save people money by analyzing their transaction history. From TV to phone to credit cards, BillShrink makes it simple to compare what you've got to what others are offering, thus making all of the options transparent and available.
With StatementRewards your savings can increase even more by your social channels as well as your geo-location, or options that merchants may include with their deals. For example, if you're in the mall and a Barnes & Noble is offering a 20% discount, they may bump it up to 25-30%, to add that extra incentive to come into their store.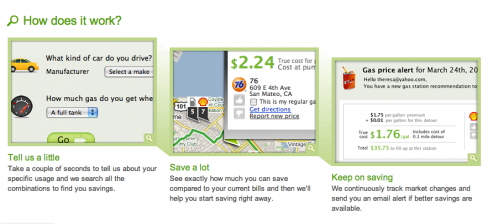 BillShrink's ever-growing techniques to save you even more money don't stop there, though. Reward Discovery will not only show you the rewards you are eligible for, but those you could achieve with specific purchase behaviors in the future. Not surprisingly, once you take advantage of the deals you can share them over Facebook and Twitter, without revealing any private information obviously, in hopes that merchants and banks will reward you with deeper discounts for promoting their products.
"The StatementRewards service allows banks to be an even more trusted advisor to their customers by helping them save money and get rewarded for their loyalty," said Schwark Satyavolu, co-founder and CEO of BillShrink. "Our newest in-statement innovations help bank customers discover great money-saving deals and manage all their merchant loyalty benefits in one place. We are making the bank card an even more valuable and indispensible product in people's lives."
Bankons
Bankons app, available to the Droid but still in development for the iPhone, with its interactive interface helps you get real-time rewards while you shop. Based on your financial history and your geo-location when you use the app, Bankons will help you find deals nearby that are best targeted for you.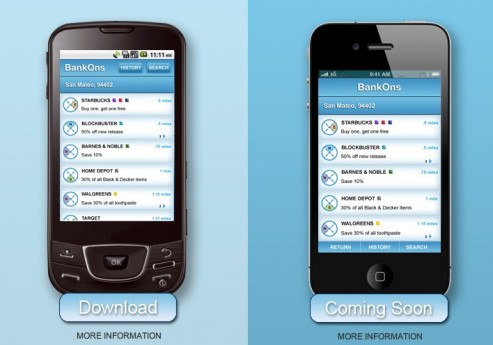 After you create the account and enter your bank card login data, Bankons will access your transaction history to determine your spending habits and find the deals best suited for you. "We are very interested in real-time, positive savings suggestions as opposed to push advertising," said Joshua Greenough, founder and CEO of Bankons in a phone interview. "Bankons will utilize your transaction history and memberships as well as other local deals like Foursquare, so that if a retailer wants you, they should make it worth it for you."
The app allows you to search for any zip code even if you are not currently in it, and to log in without giving them access to your financial history. If you find a deal you like but want to save it for later (beware of expiration) simply save it into your history and access it whenever you want. All the information is encrypted when sent and it is never stored on the phone.
Edo Interactive
Edo Interactive created Prewards to essentially cut out the middleman, as it were. Usually, when a reward (coupon) is loaded into your bank account as displayed by the two innovations above, the rewards are reimbursed after you pay for the product. For example, BillShrink will offer you a $50 gift card after spending $35 at a certain store, so you must spend to receive. Prewards are just that: they are rewarded before you even see your statement.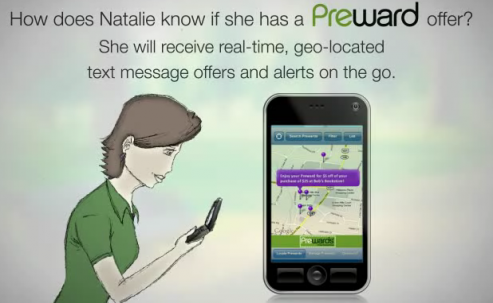 Here is how it works:
You receive an email that a $10 coupon is available for Best Buy or a real-time geo-located text message offering alerts on the go, so you activate it onto your debit, credit or prepaid card. Once you swipe, you will receive an email and/or text message confirming that the deal has been redeemed, passing the savings to you instantaneously.
Ask a Question