Attention U.S. Consumers: Retirement Accounts Aren't Piggy Banks
Two Senators are proposing legislation that, if enacted, would make it tougher for consumers to turn their 401(k) retirement plans into rainy day savings accounts by way of early withdrawals and loans.
Senators Herb Kohl (D-WI) and Mike Enzi (R-WY) unveiled plans to introduce the Savings Enhancement by Alleviating Leakage in 401(k) Savings Act of 2011 to Congress, a bill both lawmakers hope can prevent the occurrence of leakage—or, the loss of retirement assets. A statement released by the Senate Special Committee on Aging indicated that the gap between what consumers need for retirement and what they actually have saved is roughly $6.6 trillion.
Specifically, the bill proposes increasing the amount of time plan participants have to repay outstanding loans in the event of job loss, and eliminate rules barring participants that make hardship withdrawals from contributing to their plans six months after the withdrawal. The legislation would also limit the number of loans a participant can make at one time and ban products like 401(k) debit cards.
401(k) Plans—The New Savings Account:
An attractive feature of 401(k) accounts for some participants is that they allow participants to take out loans at much lower interest rates than would be offered on a credit card or traditional bank loan. Loans taken out against 401(k) account balances are also attractive because they can be used for any purpose and have a repayment period of up to five years.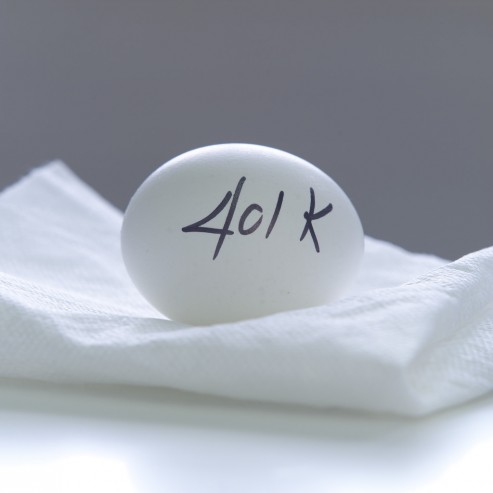 Roughly 28% of 401(k) plan participants have outstanding loan balances, according to the Senate Committee's Wednesday statement, which cited data compiled by consulting firm Aon Hewitt.
If a participant continues to contribute to their plan while paying off their loan, then their retirement funds won't be harmed. What causes leakage is when a participant is unable to pay off an outstanding balance of a loan. According to Aon's study, this most typically occurs when a plan participant loses their job. At that time, outstanding loans are required to be paid off within 60 days for most plans. Once an event of default occurs then the loans are also then subject to taxes and other penalties.
Another cause of leakage are hardship withdrawals, since the funds are subject to both unpaid taxes and additional penalties enforced by the plan administrator. Early withdrawal rate for 2010 reached near record levels (6.9% as compared to the record high of 7.1% in 2009), according to Aon's study. Just over half of 401(k) plan participants included in the company's study said an eviction was the reason they withdrew funds from their retirement accounts.
Cash outs on 401(k) accounts also contributed to the leakage, with 42% of workers opting to cash out their accounts after ending a job, according to the study. Younger 401(k) plan participants were the most likely to cash out on their plans simply because their account balances were comparatively smaller than older plan participants. In comparison to loans and hardship withdrawals, early cash outs causes the most severe reduction in retirement savings for plan participants—anywhere from 11% to 67%.
Check out: What to Do With Old 401(k) Plans
Learn: 401(k) Balances Hit 13-year High in U.S.
Have you ever been forced to take out funds from early from your retirement account? What was the reason? Leave a comment and let us know.
Ask a Question