Department of Labor Releases Smartphone App
Employers will need to start keeping a closer eye on their timesheets as the Department of Labor has just released a smartphone app that will now allow employees an easier way to keep track of their wages.
The App, called the DOL Timesheet, is currently available for iPhone and iPod touch. It provides the opportunity for users create their own wage records by tracking hours, calculating breaks and overtime as well as regular work hours. SOme the things the app cannot calculate are; tips, commissions, bonuses, deductions, holiday pay, pay for weekends, shift differentials, or pay for regular days of rest.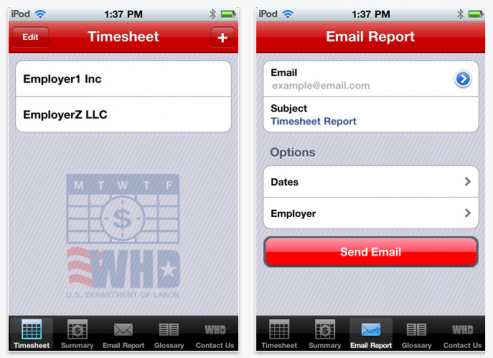 According to Labor Secretary Hilda Solis, "This app will help empower workers to understand and stand up for their rights when employers have denied their hard-earned pay."
The App comes as an example of the Obama Administrations initiative to keep a closer eye on wage and work hours. This aggressive monitoring has made many employers on edge around pay, trying to avoid wage theft and other reasons to be brought into court. In an Associated Press release earlier this week labor lawyer Gerald Maatman stated that there was a record number of cases filing this past year at 6,800 suits—a 700 case increase from 2009.
Although holding employers accountable for the amount they pay their employees is only fair, many employers are upset with the new, more stringent enforcement. They feel that upping precautions, paying for lawyers is adding an unnecessary strain. Regulators argue that this is just a more convenient way of presenting information that is already available for employees.
The main audience this app will be helping is expected to be low-wage migrant workers who are the most prevalent victims of wage threats. According to the press release these employees often invest in a smartphone in order to keep in touch with family back home.
Ask a Question