Ideon: Built-to-Order Certificates of Deposit
You would think that certificates of deposit couldn't get any more exciting than they're made to be – until now. Investing in CDs could be less daunting for those who've refrained from them and more convenient for those who cash in on them.
Customers may enjoy more options the next time they walk into the bank thanks to the innovation of customized certificates of deposit (CDs) – known as Choice Savings from Ideon Financial Solutions, a New York-headquartered firm specializing in financial product innovation.
Introduced at FinovateSpring 2011, a demonstration-based conference featuring companies in the financial technology arena, the Choice Savings product is an engine that financial institutions can use to offer CDs catering to a customer's needs and goals.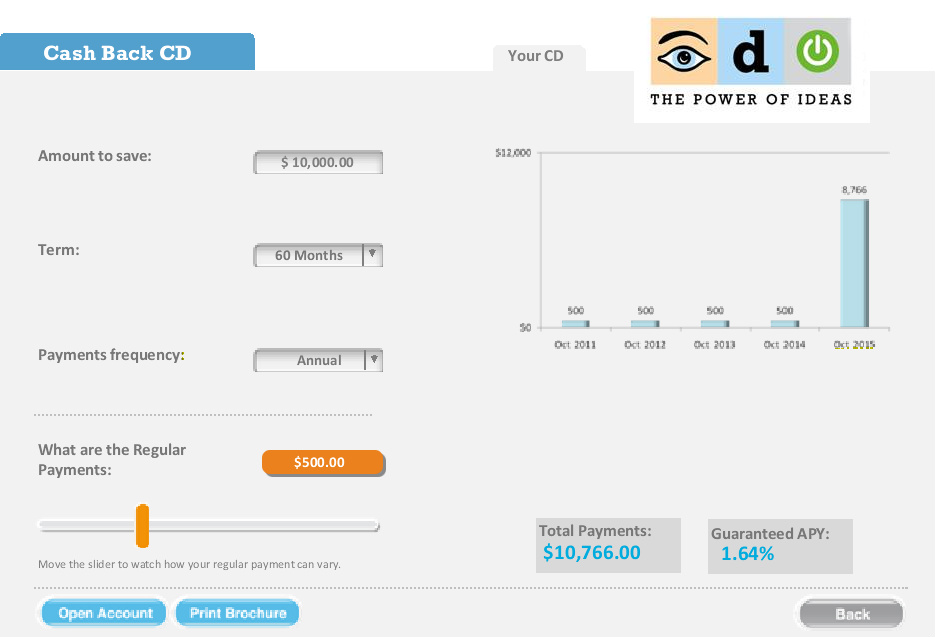 Old Dog, New Tricks
Certificates of deposit have been relatively straight forward savings instruments: earn more interest the longer you lock in the money. Pull the money out before maturity and get hit with an early withdrawal fee.
Banks and other financial institutions have made CDs more flexible and customer-friendly by offering step-up CDs, which allow customers to increase rates before maturity, and no-penalty CDs, which do not charge when funds are withdrawn prior to maturity.
Matt Murphy, Managing Director of Ideon Financial Services, noted in a phone interview that there was a "huge unserved need" left unfulfilled by the demand-deposit market largely occupied by savings accounts, checking accounts, and MMAs and the time-deposit market (i.e. CDs).
That is: the chance to lock in higher returns of CDs without sacrificing too much liquidity.
A sample Choice Savings CD product would be the Cash Back CD, which allows customers to designate a semi-annual or annual withdrawal from the CD until maturity – opting for less 'cash back' would result in a higher APY.
Another CD product could involve the performance of the S&P500 market index or commodities indices with no principal risk – and again, the ability to get cash back. For example, a customer could configure a 5-year CD that could range from 3% APY with 0% S&P500 participation to 0% APY with 100% S&P500 participation.
EverBank, an online bank, has ventured into similar territory with its market-linked CDs but voluntary withdrawals prior to maturity are strictly forbidden.
Excited Yet?
Currently, Ideon is partnered with banks in the U.S. and Europe, including BBVA Compass, Barclays and Santander.
The company's Choice Savings product innovations is expected to be available at banks starting end of 2011 to early 2012.
Murphy did not share the financial institutions that were lined up to offer Choice Savings products.
Ask a Question