Consumers Shy Away from Online Service of Large Banks
The U.S. financial services industry has given U.S. consumers ample reason to lose trust in major U.S. financial institutions in the past few years. Whether it was hearing about one bank receiving multi-billion dollar bailout, or discovering that an executive at one of those "struggling" banks got paid a hefty bonus, it's no wonder that trust in the U.S. financial system had plummeted over years, which could cut into online banking and advice resources.
For years banks have provided customers with online banking services to keep pace with the emergence of the internet, and use of online banking services has risen almost every year since the internet began to enter households back in 1994. In fact, the most recent study conducted by the Pew Internet and American Life Project in 2006 showed that the number of internet users that use online banking services hovered at just under 45% in both 2004 and 2005.
Yet, more recent research from comScore Inc., a market research firm that covers the digital world, showed customer satisfaction with online banking services is on the decline as of late, even as these financial institutions rush to improve their online tools. According to Joseph RR Templin, an author and Managing Director of the Unique Minds Consulting Group, LLC, negative publicity has resulted in what he called the "WebMD Effect" as more and more consumers move away from accepting the word of bankers and other professionals and self diagnose their own financial situation.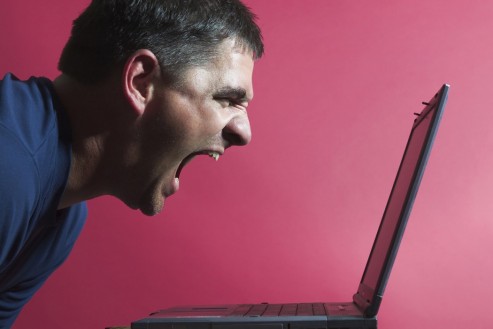 "Consumers have shifted away from trusting faceless organizations for years, preferring to have a relationship, even if virtual, with a particular individual if possible, or an institution that has an identity and personality" Templin told MyBankTracker.com in an email, adding that both the explosion and dissemination of information over the internet has helped benefit small organizations by allowing them to compete with bigger banks.
Third-Party Digital Finance Providers Take Flight:
The financial crisis undeniably created a wealth of opportunity for third-party financial services entrepreneurs to compete with big banks as consumers looked for new ways to take control their finances. While online budgeting service Mint.com—a product of financial management tool provider Mountain View, Calif.-based Intuit Inc.—currently reigns supreme in the online financial services market, other start-ups like New York-based LearnVest Inc. and Palo Alto, Calif.-based Wealthfront Inc. have also emerged since Mint formed back in 2006.
More recently, financial technology companies had the opportunity to gather in San Francisco last week to new products and services for a five-year old annual series of conferences called Finovate. The popularity of the event, which began with 20 featured financial firms back in 2007 and has grown to include almost four times that amount of businesses since then, underpins the influence of the financial technology world in guiding the financial decisions of consumers.
Still, whether or not you trust your bank to provide you pure, unbiased financial advice, it may be more important to approach free online financial advice the same way many approach traditional investing—diversify.
"Individuals cannot delegate responsibility for their financial decisions making," said Mike Carpenter, a financial services veteran and author of The Risk Wise Investor, who instead advocates for consumers relying on a variety of resources and perspectives—even perspectives you disagree with—to inform their financial decisions.
"Three-fourths of the mistakes people make are made because they do not really know what they think they know" said Carpenter via email.
Don't forget to visit MyBankTracker.com for rate information on checking accounts, savings accounts and other products that may fit your banking needs.
Carolyn Okomo is a personal finance writer and the Tuesday columnist for MyBankTracker.com. You can follow her tweets @CarolynMBT

Ask a Question