Banks Lag on Customer Demand for Mobile Check Deposits
The growing demand for mobile remote deposit capture is overwhelming the banks' ability to release the feature that allows customers to deposit checks with their smartphones.
Nearly a quarter of bank customers want to be able to deposit checks via their smartphones, according to a Javelin Strategy & Research report.
Drawn on 13,000 survey respondents, the results also showed that one in every two customers who already use mobile banking services want mobile remote deposit capture.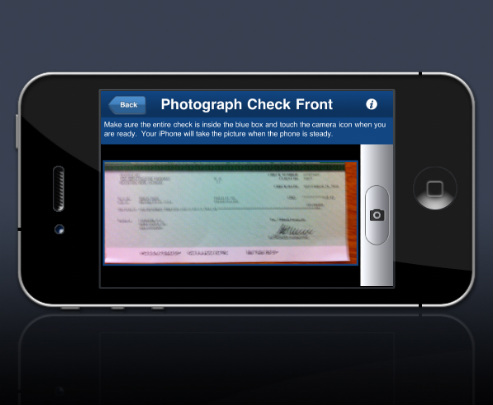 The feature has become an attractive tool for customers due to the expansion of the smartphone technology and availability. Mobile check deposits deploys a smartphone's camera to deposit a check by taking photos of the endorsed check – avoiding the need to makes trips to a bank branch or ATM.
"I am a long time Bank of America customer, but I wanted this feature so badly that I opened up a Chase account just so I can use that feature." – Tim Riley
Of the top 10 U.S. banks, Chase, PNC Bank, and U.S. Bank are the only ones to offer the mobile check deposit feature.
Chase has taken the lead by extending this feature on the popular Apple iPad 2 tablet. The bank claims its QuickDeposit feature has been used to deposit over $1 billion in 10 months across Android, iPhone, and iPad 2 devices.
"Mobile RDC offers revenue and cost-cutting opportunities," said Mary Monahan of Javelin. Financial institutions are able to lower cheque processing costs by directing consumers away from bank branches and ATMs. Financial institutions can position mobile RDC as a premium service that provides value to customers and charge customers fees for making mobile deposits. It's a win all around for consumers and financial institutions."
Becoming Industry-Standard
Javelin data revealed that mobile remote deposit capture is slated to be launched by over half of financial institutions in the next 12 months.
Bank of America, the nation's largest bank, told MyBankTracker that it is targeting the launch of mobile check deposits in the second quarter of 2011.
TD Bank is currently in the development stages are feature but could not provide further details on their progress.
ING Direct, according to spokesman Steve O'Halloran, plans to roll out the feature in "the near future."
Capital One has partnered with Mitek Systems, a leading developer of mobile-imaging applications, to develop the mobile check deposit feature.
Read: Mobile Check Deposits to Spark an Online Bank Revolution
The first bank to pioneer mobile check deposit was USAA in August of 2009 – which helped to attract many customers and improve the services of its current customers.
"Mobile RDC is the latest gold rush opportunity for first-mover financial institutions to grab market share," says Mark Schwanhausser of Javelin. "Financial institutions can use mobile RDC to lure consumers away from competitors. Similarly, financial institutions can use mobile RDC as a customer retention and growth strategy."
In a MyBankTracker article regarding Bank of America's plans for mobile check deposit, commenter Tim Riley said, "I am a long time Bank of America customer, but I wanted this feature so badly that I opened up a Chase account just so I can use that feature."
Concerns of security were the prominent reasons for the delay to market according to one-third of financial institutions surveyed by Javelin. The feature could open doors to check fraud, which is why many banks impose daily and monthly deposit limits on the amount of funds that customers can deposit through the feature.
Ask a Question