Citi MasterCard First To Be Supported By Google Wallet
Consumers will be able to ditch their credit cards and wallets all together when going out on the town. Today marked the official announcement of the Google Wallet App, an android application using near field communication or NFC to make payments.
Earlier in the week Google unveiled their plans to partner with Sprint Nextel Corp. to bring the first mobile wallet to U.S. consumers. There was a lot a speculation over who would be the initial partners of the Google Wallet. On March 26, 2011 the Google reveled their newest venture along with the initial partnerships including: Citi, MasterCard, and ViVOtech among others.
Read: Google Announces Plans to Unveil the First Mobile Wallet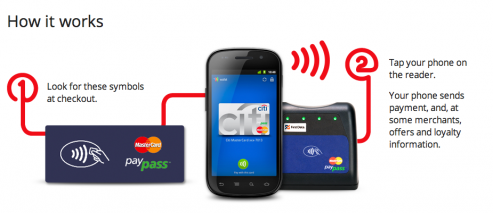 Citibank customers will get to be the privileged first users of this app. Citi's dedication to being at the forefront of innovation is definitely going to pay off as customers are constantly looking for more convenient ways to bank.
Check Out: Banks Lag on Customer Demand for Mobile Check Deposits
Although Citi MasterCard is the first actual card to partner with the Google Wallet App, google plans to also offer users the ability to store loyalty cards, gift cards, coupons along with credit cards.
Google didn't only announce their plans with the Google Wallet, but they also announced Google Offers, a deal-of-the-day type tool to let Google Wallet users know where the best discounts are. Like Google Wallet, Google offers will launch this summer. The discount program will first be available in San Francisco, Portland and New York.
Google will be making money from the Google Offers portion of the app and will not charge anything on the payment side, meaning it will be even cheaper than an actual wallet. This step may bring an even deeper cut to banking revenue already seeing losses due to the financial reform.
Ask a Question