GroupPrice: Where Small Businesses Go for Online Deals
Sites like Groupon are great because they help generate business for small businesses that would have otherwise not have existed. But, where can small businesses go to get great deals on products and services that can improve their bottom lines? One business is stepping in to fill the void.
Consumers aren't the only ones that like to get great deals on products and services to improve their daily lives. Small businesses like great deals too, GroupPrice is there connect businesses with the services they need to grow.
Although the concept of online group deals isn't anything new, GroupPrice is perhaps the first of its kind because its target customers are small businesses and not individual consumers. Similar to Groupon and other online deal websites, small business owners can easily register to receive daily offers via Facebook, Twitter or email.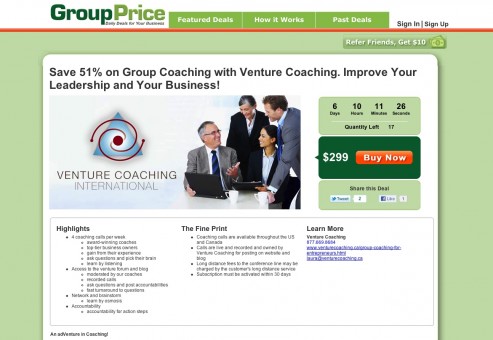 "GroupPrice is the Groupon for the small business industry" the company's spokesman Anthony Tijerino told MyBankTracker.com. The company, which was founded in 2010 and officially launched this past January, offers just one deal a day but has plans to double its deal volume in the coming months said Tijerino.
A quick glance through GroupPrice's past and current deals will lead its viewers readers to discounts on anything from group coaching lessons to mobile marketing training courses—all offered at a discount of at least 65% off the original price. Similar to other group purchasing website, GroupPrice requires that a certain number of individuals purchase the deal in order for it to be valid.
If you plan to use the service often to purchase deals for your business you can also earn rewards points simply for signing up, taking online surveys, purchasing deals or rewarding friends.
Read: Businesses Get A Mobile Upgrade
Check out: Small Business Loans Rise
Ask a Question