ING Direct Introduces 'Read-Only' Access Codes for PFM Tools
ING Direct now offers "read-only" access codes for safe and secure aggregation of financial accounts on personal financial management tools.
ING Direct (NYSE: ING) sent out notices on telling customers that a "read-only" access code will be required to pull ING Direct account info into any personal financial management tools starting May 25, 2011.
ING Direct customers can easily create an access code by logging into their account.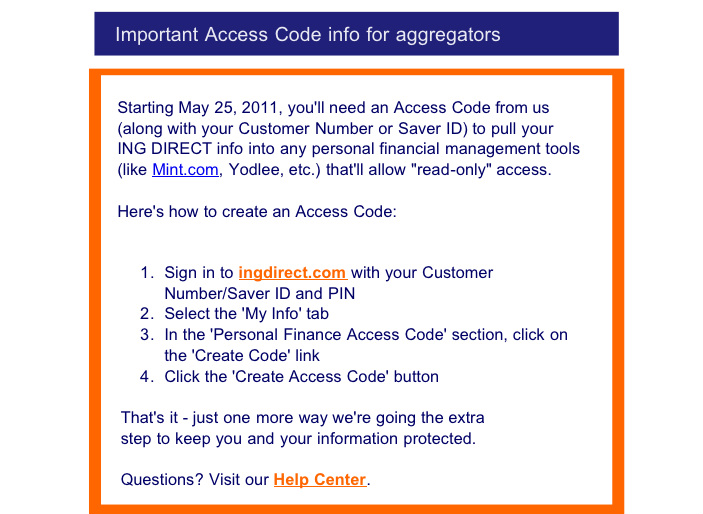 The decision to introduce this security measure helps calm customer fears that their accounts would be compromised in the event that personal finance management (PFM) tools leaked user information or came under a cyber attack.
Because the access codes offer "read-only" transactions, anyone who happens to obtain user account information would merely be able to see account balances and histories – transferring funds would not be possible.
Read: How to Organize Your Finances
It's a positive signal that a major bank like ING is doing this. The more institutions that work with us the better. – Guy Goldstein, CEO of Pageonce
For a long time, ING Direct customers have reported problems and errors when trying to aggregate their accounts on popular PFM tools such as Mint.com and Pageonce.
"The launch [of ING Direct's access codes] will make aggregation on site like Mint.com much easier," said Aaron Patzer, founder of Mint.com and Vice President and General Manager of Intuit Personal Finance Group. "Before, you had to answer several security questions and the process would frustrate some people to the point that they would give up. With these new access codes, it will make it easier for users to add accounts with fewer steps."
From online banking to competitive interest rates to person-to-person payments, ING Direct has been a leader in making their products and services more customer-friendly. The new access code concept could see widespread adoption among financial institutions.
"Anything that will make the process smoother for consumers is a positive for all. The simpler it is to get a complete look at your financial life, the easier it is to manage," said Patzer.
"We're glad to see financial institutions like ING are working with companies like ours to provide the best solutions for the consumer," said Guy Goldstein, CEO of Pageonce. "It's a positive signal that a major bank like ING is doing this. The more institutions that work with us, the better. Customers benefit from seeing all of their money and bills in one place, especially from the convenience of a mobile device."
In a digital age, PFM tools have attracted a large number of consumers to track their accounts, stick to budgets, identify excess spending, and find better financial opportunities. Founded in 2006, Mint.com currently has over 5 million users. Pageonce, launched in 2007, currently has more than 4.5 million users.
Would you feel safer using PFM services if all financial institutions offered "read-only" access codes for account aggregation?
Ask a Question