"Forget College" PayPal Founder Peter Thiel Tells Fellowship Winners
PayPal founder Peter Thiel is suggests you pass up your plans to go to college. At least that's the basis behind a new fellowship program the entrepreneur founded and recently handed out dozens of awards for.
His nonprofit organization, called The Thiel Foundation, recently handed out fellowships to 24 high school students under the age of 20 who will now receive a $100,0000 in addition to the chance to receive professional guidance under the wing of a technology professional for two years.
The fellowship areas covered by the organization—which says its mission is to promote political, personal and economic freedom covers everything from biotechnology to career development and education. There's even an area focusing on the development of mobility aids to assist physically disabled citizens, so one can get a sense of how specific the research can get.
While the nationalities and interests of the winning fellows vary greatly, they all have one thing in common—they are all under 20 and putting their academic plans on hold. And, who could blame them? Some 57% of Americans believe higher education doesn't provide them with good value for their money according to a recent Pew study.
It's important to note that not all of the scholarship winners are giving up their college dreams. Some of them actually earned college degrees before they were even legally able to drive. The program received over 400 applications from around the world from those attending high school, community college, graduate school and even those who'd already dropped out of school.
"The Fellows are a tremendous group of young people who are going to advance the frontiers of knowledge, shake up staid industries, and change the world," Thiel said in a statement. "Tomorrow will not take care of itself. In order to solve vexing problems and increase the quality of life for people everywhere, the world's economy needs continuous scientific and technical innovation from outstanding creative minds. I'm looking forward to helping the Fellows become the next generation of tech visionaries."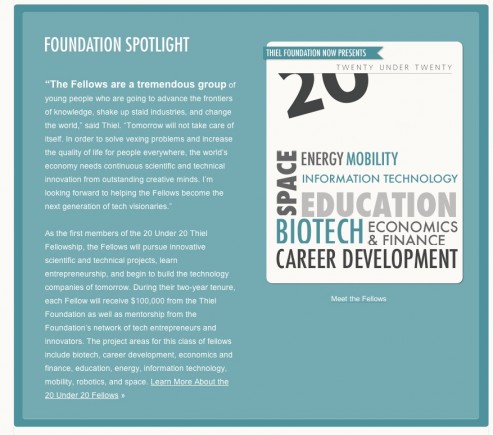 Thiel, who earned both an undergraduate degree in philosophy and law degree from Stanford, founded PayPal in 1998 and later sold the company four years later to investment management firm Clarium.
Thiel's span over the technology world doesn't just stop with PayPal, which currently has 98 million account holders. The entrepreneur also co-founded a venture capital fund that's played a hand in forming other technology companies like LinkedIn and Spotify.
If you think you know someone who'd be great for the competition then you can find information on the organization's website, called 20under20.org.
Read: PayPal Wants to Control Money Movement
Ask a Question