EverBank CD Offers Risk-Free Investing Exposure to Metals
Feared of inflation and looking to hedge against the falling dollar? EverBank offers a low-risk CD with exposure to five different metals and no risk to principal.
Many investors have flocked to commodities as consumers find that their money is losing purchasing power. Gold recently topped $1,500 due to investor concerns over the government's mounting debt, rising consumer prices, and deteriorating U.S. dollar.
The MarketSafe Timeless Metals CD is the latest commodities CD available from EverBank that allows customers to invest FDIC-insured funds with earnings participation of five metals. The CD delivers 20% exposure in each of gold, silver, copper, platinum, and nickel.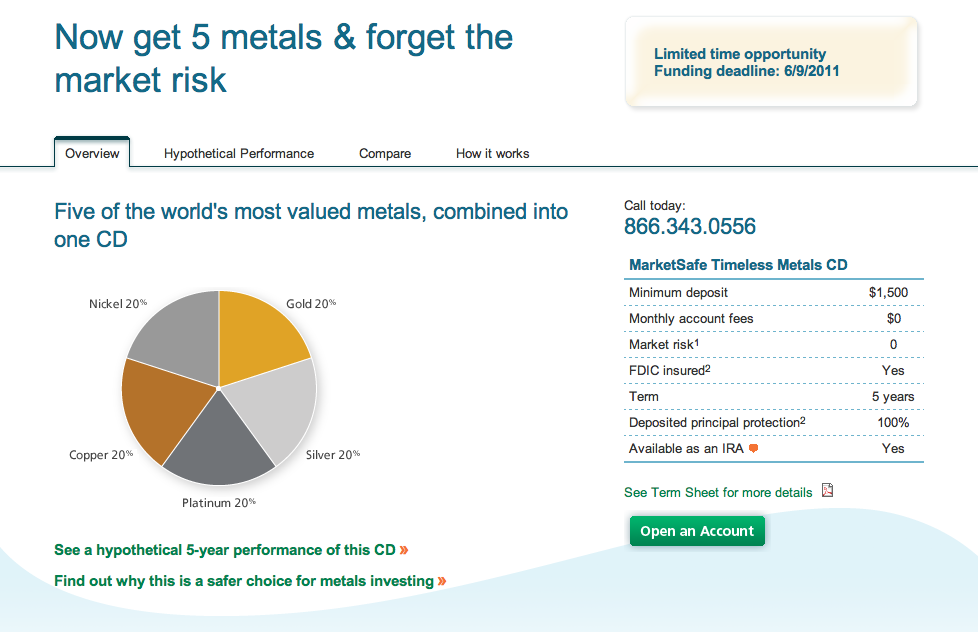 It's a 5-Year CD that offers a maximum return potential of 50% while investment principal is guaranteed in the event that the composite return is negative. For a $10,000 investment, the most you could get back: $15,000; the least: $10,000.
Returns in Trade-off For Low Risk
The returns of the individual metal indices are averaged at the end of five years. The return average is capped at 50%. Even if metals prices increase by 200% in the next five years, the return from the CD is still 50%. Investors who construct their own diversified portfolio will have more risk but they also have more earnings potential and the ability to sell the metals when prices rise.
A holder in the MarketSafe CD can watch metals prices rise and then fall – and possibly end up with zero gain. Meanwhile, the self-investor has the opportunity to secure gains any time in a five-year period.
Additionally, a strict rule comes with the CD is the no-early-withdrawal policy, except in the event of death or declaration of incompetency. The 5-year commitment is a challenge for anyone who may need the money if an emergency arises.
For investors who want the potential upside of following metals prices without the worry of loss of principal, the MarketSafe CD is an appropriate investment vehicle. But, the above factors should be taken into serious consideration.
The minimum deposit for the MarketSafe Timeless Metals CD is $1,500. The deadline to fund the CD is June 9, 2011. It will begin tracking the corresponding indices from June 16, 2011 to June 16, 2016. The CD matures on June 21, 2016.
Interested in the EverBank MarketSafe Timeless Metals CD? Click here to open one.
Ask a Question