Citi Specials Beta: Hidden Daily Deals Program for Cardmembers
Consumers cannot resist the temptation of a good deal. It's the notion leading Citi to launch its own deals program – Citi Specials – to compete for consumer discretionary spending.
Citi has developed its own version of a deals website that tries to capitalize on explosion in the daily deals market set off by Groupon and LivingSocial. The Citi Specials program is currently in the beta phase but offers are already very enticing.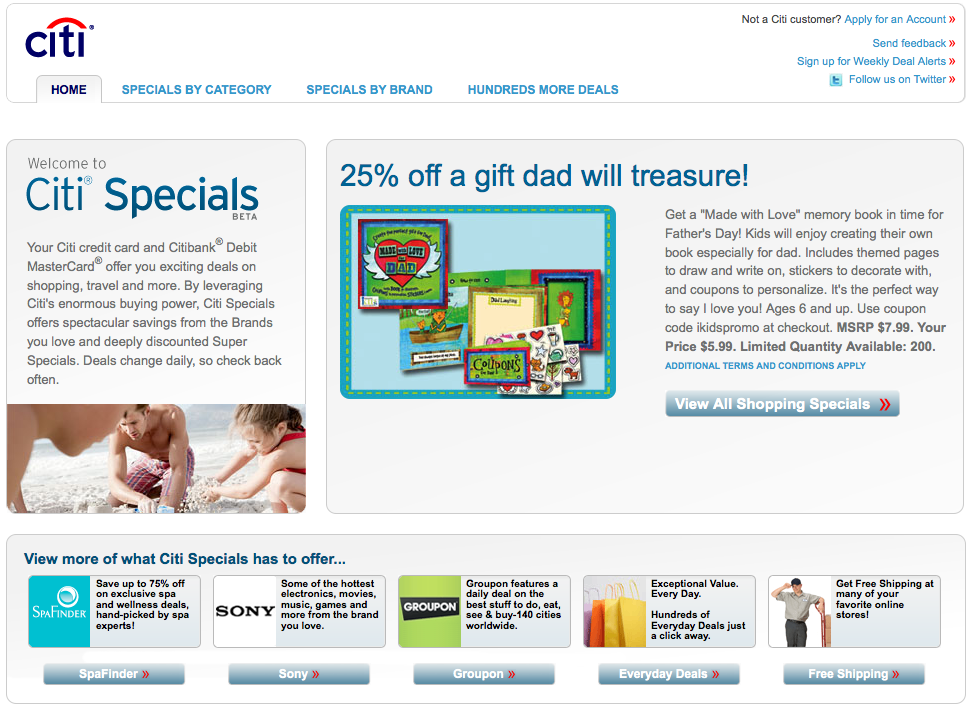 Launched in 2010, the Citi Specials deals website is fairly unknown to many cardmembers who may otherwise be interested in the huge savings that are available. The program is free and does not require any sign-up.
To participate in the Citi Specials Beta program, you only need to have a Citi credit card or Citibank Debit MasterCard. Cardholders can visit the Citi Specials page and simply click on the link for the particular deal to be sent to a special merchant landing page for Citi cardmembers.
The deals often change daily. Deals can have varying expiration dates and limited quantities – making them even more exclusive. Taking advantage of a deal does not affect the terms of the Citi card – meaning you'd still be earnings cash back and rewards on your purchases.
The Super Specials are usually the most attractive deals with substantial saving and discounts on merchandise, travel, gift cards, and more. Currently, the Citi Specials program also includes over 750 Everyday deals, which are less stellar and commonly found elsewhere.
Previous deals included 30% of a $50 Zynga eCard for the popular Facebook game FarmVille, Ninendo Wii for $128, and Sony PS3 160GB for $176. Typically, the better the deal, the more limited the quantities available.
If you are a Citi cardmember and would be interest in the Citi Special Program, visit https://www.specials.citi.com/. You can also sign up for weekly deal alerts to stay on top of the offers for the program.
Ask a Question