Amazon, LivingSocial Heat Up Competition in Online Group Purchasing Market
Amazon.com, already a leader in the eCommerce world, will now give Groupon and other online deals sites a run for their money through its newest endeavor: AmazonLocal.
The website will offer deals that can allow customers to save 50% or more on local services and products, and is currently running a 50% off ice cream and shakes at Goody's for just $6.
Like other online deals sites before it, AmazonLocal works by allowing consumers to subscribe to the service to receive notices when a new deal posts. Once a deal is purchased, then consumers can simply present their voucher to the retailer during the redemption period. The service is currently only available in the city of Boise, ID and while both Amazon and LivingSocial hadn't released a statement regarding AmazonLocal it's hard to imagine both companies won't expand the service nationally and even internationally at some point in the future.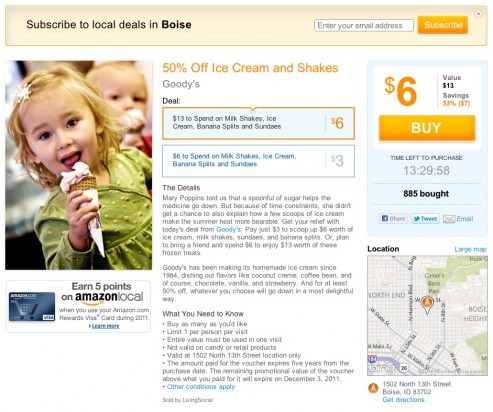 A spokesperson for the new site couldn't immediately be reached to confirm its future plans.
AmazonLocal was born out of a partnership between online deals site LivingSocial and Amazon, which late last year invested $175 million into LivingSocial. LivingSocial also partnered with Amazon.com earlier this year to well 1.4 million $20 Amazon vouchers for $10, which at the time was the largest online deal coupon to date, according to PC Magazine. As of 1:07 p.m. ET there had been 809 deals sold.
While the online deal market is definitely new territory for Amazon, the venture could prove problematic for the company, which is already facing intense scrutiny from state governments and brick and mortar retailers for its failure to collect sales tax on online purchases. Brick and mortar retailers such as Barnes & Noble and Best Buy have lobbied heavily in favor of rules that would force online retailers like Amazon and Overstock.com to collect sales tax from customers making online purchases, and a growing number of states have considering taking up such legislative moves.
Read: Shopping with Amazon.com Could Make You More Susceptible to an Audit
Ask a Question