Chase Updates Android App with P2P QuickPay
An update to the Chase Mobile Android app now allows customers to send payment to one another, check rewards balances, and manage their credit card debt repayment with Chase Blueprint.
Chase (NYSE: JPM) released version 2.0 of its Chase Mobile Android app over the weekend that finally matches the application capabilities offered on the Chase Mobile iPhone app.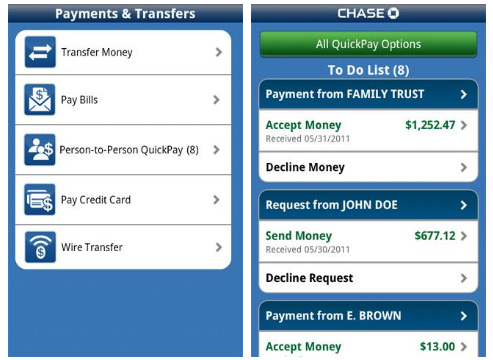 The major change was the addition of the person-to-person QuickPay feature that lets Chase customers send money to almost anyone with an email address.
Additionally, Chase customers can check their debit card and credit card rewards balances and use Chase Blueprint, a management tool for credit card transactions and payments.
Read: Chase QuickPay Gets Upgraded
The QuickPay feature arrives on the Chase Mobile Android app nearly one year after it was launched on the iPhone in July 2010, as banks tends to release its newest mobile technologies on the iPhone first.
Chase QuickPay was first available via the online account interface before it became a part of the bank's mobile apps. Customers can add a new recipient to their QuickPay database and then send money or request money just be entering the other party's full name and email address.
Chase Quick Deposit, which allows customers to deposit paper checks with their smartphones, was released also in July 2010 but the feature became quickly available on Android devices in November 2010.
Aside from mobile check deposits, banks have been making leaps on the person-to-person payments front.
Read: PayPal In Trouble As Banks Roll Out New Feature
With QuickPay now on Android devices, this type of service is set to gain even more widespread adoption as Chase has partnered with Bank of America® and Wells Fargo to introduce clearXchange – allowing customers to transfer money using a mobile number or email address.
Ask a Question