ING DIRECT Site Redesign Hints at Upcoming Scanner-based Check Deposits
As suggested by the new online account redesign, there is a new feature just around the corner for ING DIRECT customers: the ability to deposit paper checks with a scanner.
ING DIRECT (NYSE: ING) released a new design for its online account interface that reveals a remote check deposit feature, most likely to be scanner based.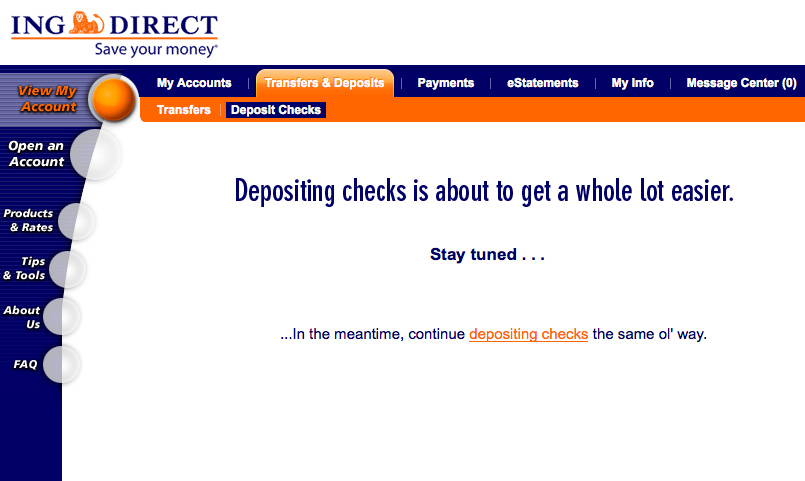 After logging into their accounts, customers will find the 'Deposit Checks' tab under 'Transfers & Deposits'. Currently, the page says, "Depositing checks is about to get a whole lot easier. Stay tuned…"
ING DIRECT's preparation to unveil the service signals that a similar feature for its smartphone app – available on iPhone, Android, and Blackberry devices – is also coming very soon.
"Our goal is to roll out remote deposit and mobile check deposits this summer and we are currently in the final stages of finalizing the launch plans", an ING DIRECT spokesman said in an email.
ING DIRECT has been pioneering many mobile technologies that makes it easier for customers to conduct their banking. Its latest innovation is the person-to-person transfer feature that occurs when two customers bump fists while holding their iPhones. But, the bank has been a latecomer to remote deposit capture despite high customer demand.
Read: Banks Lag on Customer Demand for Mobile Check Deposits
Remote deposit capture requires customers to take images of front and back sides of an endorsed check. Other banks and financial institutions offer this service through a native smartphone application or a scanner.
Currently, there are two ways to deposit a paper check into an ING DIRECT account: depositing the check into an external linked checking account or mailing in the check for deposit. The launch of the scanner-based check deposit feature will make it more convenient and less time consuming for the ING DIRECT customers.
Ally Bank, arguably ING DIRECT's most prominent competitor, has launched a scanner-based check deposit service: eCheck Deposit. But, Ally Bank is yet to offer any native mobile application.
Ask a Question