Intuit Launches Android App for Credit Unions
For all you Android users out there, Intuit released a mobile banking app specifically for Android smartphones that gives you even more control over your finances straight from your mobile device.
The app offered by Intuit Financial Services, the banking services division of Intuit Inc. (NASDAQ: INTU), will help people manage their finances by allowing them the ability to view account balances, transaction history, transfer funds between accounts, pay bills, and locate nearby ATMs and bank branches using the phone's built-in GPS.
The app does not have a specific name allowing banks and credit unions to offer the product under their own name, while Intuit provides the back end technology to make the app specific to their credit union.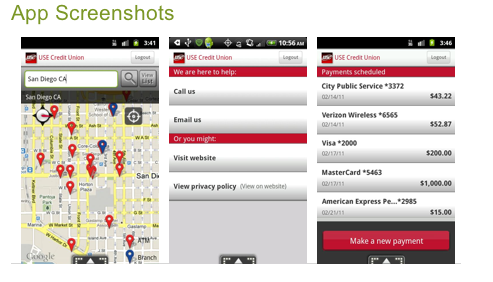 We have already seen many banks develop apps boasting similar capabilities, proving the significance of these type of apps. Banking from a mobile device is becoming more essential and the fact that third party companies not even attached to these banks are developing them, shows that financial institutions of all sizes must jump on the bandwagon.
"Whether at home, work or out on the town, people are increasingly reaching for a mobile device when they need financial information," said CeCe Morken, president of Intuit Financial Services and a vice president at Intuit. "If financial institutions are going to remain relevant in the future, they will have to offer insights and services when and where customers need them."
Financial apps will play a big role in the future of banking, as most banks, with the notable exception of JPMorgan Chase, are moving further away from having physical branches, replacing them instead with more sophisticated technology.
Read: JPMorgan Chase Does The Opposite of Other Big Banks
On top of that, people at more than 300 U.S. banks and credit unions actively use Intuit's services to conduct their critical banking tasks an average of eight times per month. With such overwhelming movement toward mobile banking, these apps are becoming more significant, both for consumers and for banks.
"We are intensely focused on building mobile solutions that will help banks and credit unions be a meaningful part of how customers live their lives," Morken said.
Ask a Question