New Bill Could Reduce the Price You Pay For Shoes
A new bill making its rounds through Congress could reduce the amount you pay for a pair of shoes by more than almost 70%. The proposed bill would eliminate duties originally imposed to protect what's now become a close to nonexistent U.S. shoe manufacturing industry.
The bill, called the Affordable Footwear Act, would remove import duties on 60% of all footwear sold in the United States and reduce duties by more than $800 million out of the $2 billion paid on shoe imports in 2010. The newest version of the bill was introduced to Congress this past May by a bipartisan group of U.S. Senators that include Maria Cantwell (D-Wa.), Roy Blunt (D-MO) and Pat Roberts (R-KS).
U.S. import duties on shoes can tack on as much as 67% to the total cost of footwear according to the American Apparel & Footwear Association. Meanwhile, U.S. foot importers paid $1.7 billion in duties on footwear to the U.S. government in 2008—higher than the duties paid to import any other type of product that year.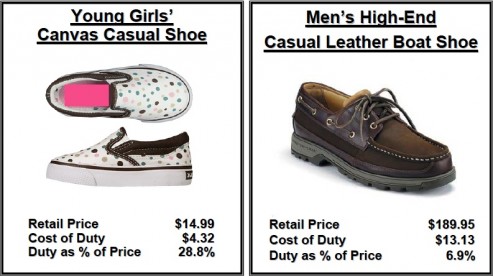 The taxes are most heavily imposed on low-priced and children's shoes, which critics of the duties say most heavily impact middle- and lower-income Americans. By passing a bill that would eliminate duties on imported shoes, the AAFA argues that the savings would immediately be passed on to consumers and protect the U.S. footwear industry by boosting sales and creating jobs. In fact, the AAFA estimates that the Affordable Footwear Act could create as much as 18,000 full-time U.S. jobs if passed by Congress.
Shoe Duties—A Brief History:
According to the AAFA, the shoe tax was enacted in the 1930s to protect the U.S. manufacturing industry during the height of the Great Depression, though in the past 20 years U.S. footwear production has for the most part moved predominately overseas. To date, shoe imports now compose 99% of all shoes sold within the U.S., with 90% of those imports coming from China.
While the average duty tax on all goods imported to the U.S. is 1.6%, the rate increases to 8.5% for leather dress shoes, 20% for running shoes and more than 60% for certain grades of cheap sneakers according to the Heritage Foundation. All told, import duties paid on shoes in the United States are higher than those imposed on gasoline, cigarettes, and even liquor like whiskey and vodka.
"At a time when they can least afford it, hardworking American families are about to face the first increase in apparel and footwear prices in more than a decade," said Kevin M. Burke, AAFA President and CEO, in a statement. "The swift passage of the Affordable Footwear Act is one way Congress can help alleviate rising commodity and supply chain costs that threaten to drive up the price of footwear and most other consumer goods."
You can learn more about shoe taxes by visiting both the AAFA's official website and at EndtheShoeTax.org.
Ask a Question