Fridays Still a Popular Day for Bank Robberies
Just as you can always count on bank criminals to find new ways scheme and rob America's financial institutions, you can also count on the Federal Bureau of Investigation to keep the public in the know about the prevalence of this activity.
There were 1,092 known violations of the Federal Bank Robbery and Incidental Crimes Statute during the first quarter of 2011, which included 1,081 traditional bank robberies, nine burglaries, two larcenies and one extortion according to the agency. In comparison there were 1,183 bank crimes in the fourth quarter of 2010.
To avoid being the victim of a bank robbery it's best not to visit your bank between between the hours of 9:00 a.m. and 11:00 a.m. on any day of the week—the time that most banking robberies during both the first quarter of this year and the fourth quarter of 2010 occurred. Fridays were also the most popular day of the week for bank criminals to strike during the first quarter of 2011, while both Fridays and Mondays were the most popular days during the fourth quarter of 2010.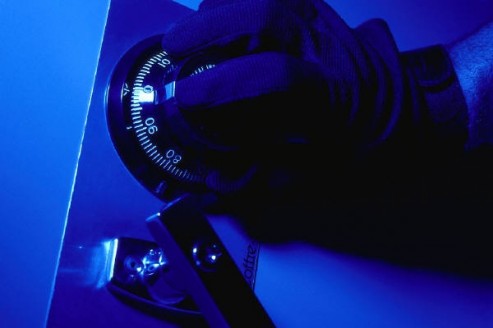 Bank crimes in the first quarter of this year also saw drop of just over 13% from the previous quarter. Close to 30% less loot was taken by bandits during the first quarter when compared to the last four months of 2010 ($7.5 million in comparison to $10.4 million). Of the amount taken by bandits in the first quarter just $1.72 million—just under 23%—was recovered.
Similar to the past, commercial banks were the primary targets of bank criminals during the first quarter. A total of 982 criminal events occurred in commercial banks, while five events occurred at mutual savings banks, 17 in savings and loan associations and 77 occurred at credit unions.
A recent MyBankTracker.com poll indicated that 50% of banking customers believe their primary banking branch is highly susceptible to a bank robbery. About 33% of those polled believe their bank was fairly safe, and about 17% felt their banking branch was very safe.
Click here to view the full report.
Read: Bank Robberies Rise Causing U.S. Banks Millions
Learn: FBI 2010 Bank Crime Statistics: Friday is the Favorite Day for Bank Robberies
Ask a Question