How Responding to a Text Can Cost You
Gateway Bank has become the newest victim of a phishing scheme that state authorities claim have cost its customers $100,000.
Victims of the scheme reported having received text messages from the scammers according to North Carolina's Department of Justice. The texts stated their debit cards had been deactivated and directed customers to call a phone number and provide their debit card number, expiration date and personal identification number. After receiving the information the scammers then used it to make new debit cards.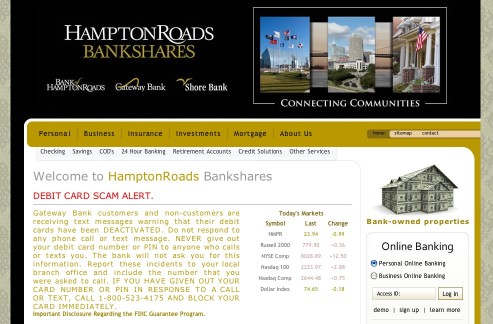 "Thieves are using these messages to get your information so they can steal your money," said North Carolina Attorney General Roy Cooper in a statement. "If you get one of these phony texts, don't respond." Cooper's office also noted that banks never communicate with customers about their account problems via text message, and that neither PIN nor account numbers should ever be provided to anyone — even those claiming to be from your bank.
Both the Attorney General's office and Gateway Bank, a subsidiary of Norfolk, Va.-based HamptonRoads Bankshares, have directed its customers to call 1-800-523-4175 if they've received text message asking for a PIN number.
Representatives for both Gateway Bank and the AG's office couldn't immediately be reached.
Phishers Keep Banking Customers on Their Toes:
Gateway Bank's text message scheme is just one example of the ways phishers can gain access to sensitive information from unsuspecting customers. Phishing involves scammers sending out mass communication to a targeted group of individuals. The goal is that some individuals will respond by providing data like credit card information, social security numbers or, in the case of Gateway Bank, debit card and account information.
As with any potential fraudulent attack on your personal finances, make sure to contact your bank and file a complaint with the Federal Trade Commission if you believe you've received phishing communication.
Read: How to Avoid Becoming a Victim of a Bank Phishing Scam
Ask a Question