Huntington Bank Launches Mobile Banking iPhone and Android Apps
For the Huntington Bank customers that have been yearning for a mobile banking application, their wishes have come true.
Huntington Bank (NASDAQ: HBAN) announced the launch of its mobile banking app for iPhone and Android devices.
The free application allows customers to view balances and activity of Huntington accounts (including investment accounts), access online bill pay, and conduct fund transfers – essentially the basic features for mobile banking. Additionally, the app helps locate nearby branches and offers quick dial to customer service.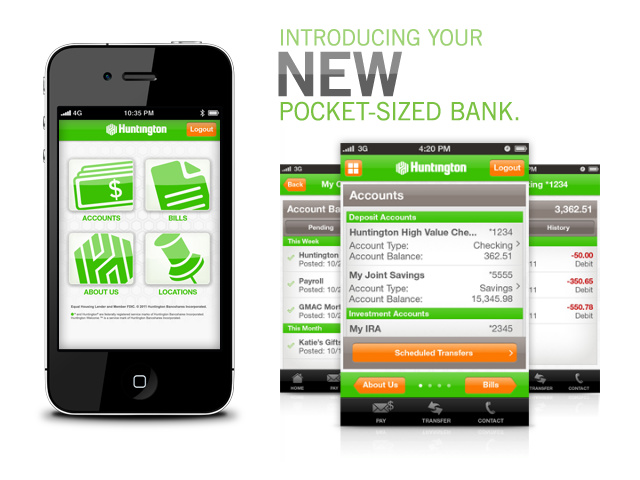 "Huntington's mobile applications will enable our more than one million consumer customers to access and control their finances remotely, no matter where they are – whether at the park with their kids, in line at the grocery store, across the country on business or even overseas on vacation," says Mary Navarro, director of consumer and business banking at Huntington.
In a recent comScore report, there was a 54% increase in the number of Americans who accessed financial service accounts through their mobile devices from Q4 2009 to Q4 2010. Additionally, the number of users that did so via mobile applications increased by 120% in the same time period.
"We know our customers already access our digital channels more than 500,000 times a month with iPhone and Android devices," said Jeff Dennes, director of online and mobile services at Huntington.
"Android and iPhone applications are foundational for everything we want to build for our customers in the digital space. And this is just the beginning of much more to come," Dennes added.
Huntington Bank has partnered with Kony, a mobile application platform provider, to develop the mobile banking apps, with plans to extend the applications to other growing mobile platforms – Blackberry and Windows Phone devices are likely to be next in line to get native apps.
The Huntington Mobile apps are immediately available for download on the Apple app store or Android Market. Huntington customers much first enroll in Online Banking.
Ask a Question