Ally Bank to Launch Ally Perks Debit Card Rewards Program
Ally Bank is making it even more rewarding to be an Interest Checking customer with Ally Perks, a new debit card cash back program.
In a time when banking giants are eliminating their debit card rewards programs to offset the impending revenue loss from debit card swipe fee rules, Ally Bank is taking a step in the opposite direction by introducing a debit card rewards program, according to MyBankTracker sources.
Ally Perks is the bank's new, free debit card rewards program for any customer that has an Ally Bank MasterCard Platinum Debit Card linked to an Ally Interest Checking account.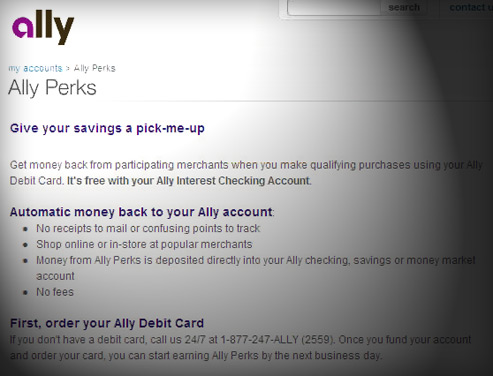 Over the past week, customers have begun receiving notices in the mail saying that Ally Perks is launching on June 18, 2011. And, all eligible customers will be automatically enrolled in the program.
Under participation in Ally Perks, customers will earn money back when they shop at particular retailers online or in-store, depending on the offer. Occasionally, Ally Perks may present personalized offers based on past purchases and spending habits.
There are no points or cash back balances to track, no coupons to print, and no redemption thresholds to meet. Better yet, customers don't have to sign up for a particular offer – it will also be automatically be applied to an eligible purchase whether or not the customer knows about it. Ally Perks could be paying customers back without them knowing it.
After an eligible transaction, an Ally Perks payment will be issued within 24 hours after the transaction is posted. Customers have the option of setting Ally Perks payments to any Ally Bank deposit account (Interest Checking by default). In the next day, the money back begins accruing interest and is readily available to be spent.
Most other financial institutions will not post rewards or cash back earned until the next statement date. Additionally, many card issuers stipulate minimum redemption rewards balances or require cash back to be paid out in increments of a certain amount.
The introduction of Ally Perks is just one of the recent moves by Ally Bank to becoming more consumer-friendly – making it even more attractive when compared to other brick-and-mortar banks and online banks. The Ally Bank eCheck Deposit service, which allow customers to deposit checks through a scanner, became available in April.
Ask a Question