Andera Maximizes Security With FortiFI Launch
Perhaps as a response to all the recent vicious data hacks, Andera Inc., the leader in online customer acquisition solutions for retail, is beefing up their security even more with the launch of a new real-time fraud prevention feature called FortiFI.
Andera is a Rhode Island-based startup that is ranked number one at providing online account opening and funding solutions in the U.S. serving 500 clients, which equals more financial institutions than any other vendor. This is made possible by their comprehensive library of account-opening core system interfaces, the application's intuitive flow and usability, and the company's narrow focus on account-opening technologies.
FortiFI combines data from all their clients
Andera launched FortiFI on the premise that this new and updated software will immediately identify and flag suspicious consumer data patterns in real-time to stop online account opening fraud before it can even happen. This will herald in a new era in fraud prevention by moving from detecting fraud from existing customer accounts to focusing on new customer activity.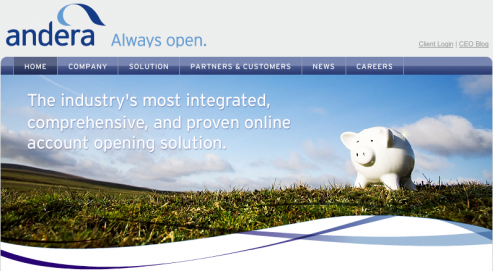 Andrea Hunter, the product manager at Andera explained that FortiFI is fulfilling a pressing need for financial institutions as 63 percent of those surveyed reported at least one if not more instances of fraud, averaging $20,000 and ranging over $100,000.
"Early on, FortiFI is preventing 99.5% of online account opening fraud," Ms. Hunter said. "FortiFI recently revealed two separate fraud rings, in one case 85 of 86 fraudulent applications were foiled, and in the second case, all 82 fraudulent attempts were thwarted. Other solutions may have real-time consumer data connections for credit reports or device data, but only Andera scans include real-time consumer data patterns across a massive network of financial institutions."
By amalgamating the information they accumulate across all of the financial institutions they service, Andera is able to track down and stop attackers from simultaneously opening accounts at multiple financial institutions. Andera believes the new system will reduce fraud to under 5 out of every 1,000 applications approved compared to 20 to 30 frauds per 1,000 that currently get approved.
Andrea adds, "We developed FortiFI to be dynamic, to learn and adapt to fraudulent patterns; now we can keep banks and credit unions that crucial one step ahead."
Ask a Question