Ally Bank Launches IRA Deposit Products
Ally Bank expands the savings toolbox for customers with the launch of IRA CDs, Raise Your Rate CDs, and online savings.
Ally Bank has begun offering certificates of deposit (CDs), Raise Your Rate CDs, and online savings for IRAs. This marks the bank's move into the retirement savings space, delivering some of its popular deposit products in tax-advantaged accounts.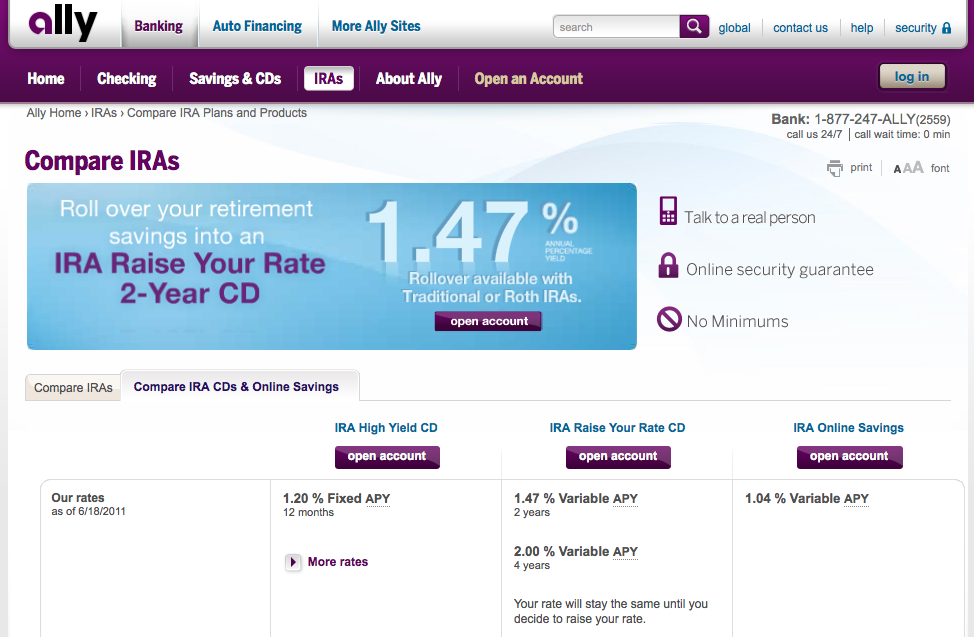 New IRA Products from Ally
The new IRA deposit products from Ally Bank are generally the same as their non-IRA counterparts.
Ally Bank's IRA High Yield CDs will have the following maturity terms with variable APYs:
| IRA High Yield CD Maturity Term | APY (as of 6/18/11) |
| --- | --- |
| 3 Months | 0.49% |
| 6 Months | 0.94% |
| 9 Month | 0.95% |
| 1 Year | 1.20% |
| 18 Months | 1.29% |
| 3 Years | 1.75% |
| 5 Years | 2.37% |
Ally will also offer two IRA Raise Your Rate CDs with 2-year and 4-year terms. The 2-Year Raise Your Rate IRA CD includes the option of a one-time rate increase and it is currently paying 1.47% APY. The 4-Year Raise Your Rate IRA CD include two rate increases and it is paying 2.00% APY.
Like its regular CD accounts, Ally Bank will charge an early withdrawal penalty fee of 60 days worth of interest in the even the funds of any CD are withdrawn prior to maturity.
Ally Bank IRA Online Savings is the straightforward interest-bearing deposit IRA, which is currently paying 1.04% APY.
Ally allows customers to select their states to view the rates from other competing banks simply for comparison reasons – Ally's rates do not vary by the state of residence of the customer.
And, already common knowledge to Ally customers, Ally continues to promote no minimum deposit requirements across its IRA products.
All Ally Bank IRA products are available in traditional IRAs, Roth IRAs, and SEP IRAs. Customers may be subject to IRA contributions limits depending on age and income. For the year 2011, the contribution limit for IRAs is $5,000 ($6,000 if you are age 50 older) or the equivalent of earned income, whichever is less. For SEP IRAs, the maximum contribution is $49,000 for 2011.
Ask a Question