Confessions of a Real-Life Bridesmaid
While you are reading this, I am probably in a room surrounded by hair curlers, makeup and squealing women. No, I am not at some weird modeling gig, I am getting ready to watch one of my closest friends take the plunge.
Before this wedding, I had never been a bridesmaid and had only attended a couple of non-traditional weddings. I didn't realize how much of a financial burden being a bridesmaid could be, especially if you live in a different state.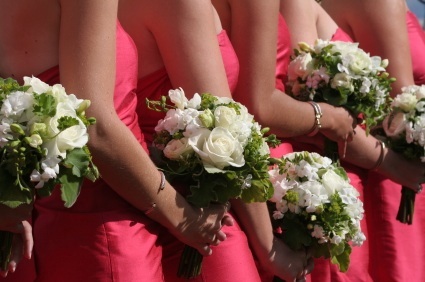 To make being a bridesmaid a smoother experience it is important to be honest and upfront with the rest of the bridal party. Everyone may be at different life stages and therefore have different budgets. For example, in my bridal party, one bridesmaid was a single mom, two were flying in from out-of-town, one had just begun to plan her own wedding and one started a new job with a high signing bonus.
Clearly, all the women had different financial needs and expectations. Luckily, we were all close enough where we could openly talk about our finances and budgets.
If you are a first-time bridesmaid here are the some costs you can expect:
Consider Travel
If you have to fly that's one thing, but think about the other times you will be paying for transportation. For some bachelorette parties the bridesmaids decide to get a limo for the night, you also have to consider if you are taking cabs to get to the airport. The total amount I will pay for transportation will be around $350, which isn't too bad considering a plane ticket is involved.
The wedding is taking place in an area where a lot of the bridesmaids live, so I do not have to worry about getting a hotel. If you are a traveling bridesmaid this is definitely a cost to consider in your budget.
Total for me: $350
The Bridal Shower/Bachelorette
Depending on what kind of Bridal Shower you throw the cost will vary. We decided to throw our own at a park and then continued it at the pool of one of the bridesmaids. Some people think that the cost of the bridal shower should go to whomever threw it, but we decided that our gift would be the bridal shower and bachelorette parties.
In our case, the Maid of Honor paid for both and told the bridesmaids to pay whatever they could afford — once again, we are a tight-knit group. The costs were split up pretty evenly with the bridesmaids from out-of-town covering everything but the hotel. With six bridesmaids the cost per person was not unreasonable. We each owed $70 which covered the drinks, food and decorations. The bridesmaids who were able to make it to the bachelorette party covered the cost of the hotel.
Total (with Hotel): $420 +$150 = $570
Looking the Part
The bridesmaid's dress is what most signifies a bridesmaid. I was really lucky in this sense because we got to choose our own styles and the bride considered the cost of the dresses when picking a company. At the end of the day the total cost of the dress was $150. At first I thought I would need to get it altered which could cost anywhere from $20 to $40, but the dress I ordered ended up fitting nicely. We also had to buy matching shoes which cost $50. The bridesmaids decided that a fun pre-wedding activity would be to get manicures and pedicures which costs around $40.
As a gift, the bride had hair and makeup done by a friend who works for a salon. Although we didn't have to pay for that, it was still customary to tip — around $10.
Total: $250-300
The Wedding Gift
A couple of bridesmaids and I decided to pool together money to get a few gifts off the registry. Since we had spent so much on travel, the shower and bachelorette party we spent around $100 among the three of us for the gift. It is up to you when deciding how much you are comfortable spending. Here is a great guide for Wedding Gift Giving Etiquette.
Total: $100
Grand Total
When it all comes down to it I will be spending around $650 — a large part of that going towards travel expenses. I was able to save a lot of money by not attending the bachelorette party or needing a hotel.
One thing I did not expect was three more out-of-town weddings, and the request to be a bridesmaid in another wedding. When you accept the invitation of being a bridesmaid try to consider some other potential but unexpected costs down the line.
The total cost of a bridesmaid can range from $500 – $1,200.
Once again, the cost varies depending on how lavish the wedding is, where it takes place and the size of the bridal party. At the end of the day, no matter how much you expect to pay it is better to sit down with a budget first. This way everyone in the bridal party can be prepared for the cost and it will avoid any tension further down the road. Would I do it again? That is a whole-hearted 'yes'. The next time I will just be prepared with a budget.
Ask a Question