Ally Bank Races Ahead With IRAs, Ally Perks, eCheck Deposit
Ally Bank debuted a wide array of products and services that offers more options for its customers – and very likely steal business from other online banks.
Ally Bank is making great strides in becoming a more consumer-friendly online bank with new products and services that have been released in the past two months.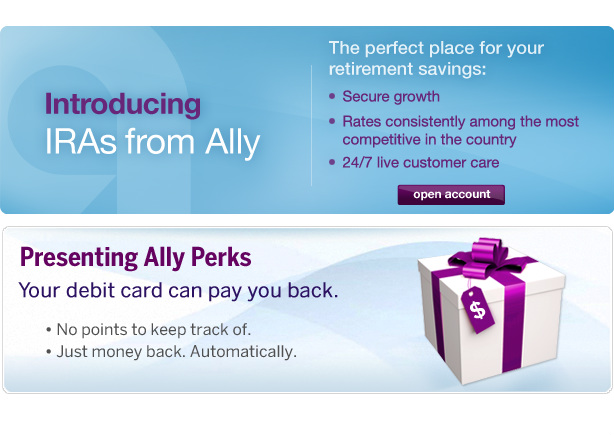 Ally Bank IRAs
Ally Bank has entered the retirement space with traditional IRAs, Roth IRAs, and SEP IRAs. The tax-deferred accounts can hold online savings and CDs that are typically available in regular taxable accounts. Currently, the No-Penalty CD is the only CD product that isn't available in an IRA.
They are simple, straightforward options for anyone looking to save in retirement vehicles. Also, Ally products may be in IRAs but the deposits remain insured up to the FDIC limit.
With the introduction of IRA CDs and savings, Ally Bank becomes a top competitor among rivals ING Direct, USAA Bank, and Discover Bank for IRA deposit offerings.
Ally Bank's 5-Year IRA CD, which paying 2.37% APY, is currently the leader in 5-year IRA CD rates.
4-Year Raise Your Rate CD
A popular savings product at Ally Bank is the 2-Year Raise Your Rate CD that allows a one-time rate increase if interest rates happen to rise in the future. The new 4-Year Raise Your Rate CD allows two rate increases in the 4-year term.
It's ideal for any customers who want to start saving now but worry about rising interest rates in the future.
Ally Perks
Banks are cutting back on the debit card rewards but Ally Bank has decided to launch a new rewards program – Ally Perks – for its Interest Checking debit cardmembers. Ally Perks is unlike the typical debit card rewards program where cash back or points are earned based on purchase amounts. For example, customers may receive an offer to get $10 back on a $100 purchase at a participating retailer.
Ally Perks is conveniently redeemed automatically, sometimes without customers knowing an offer was available. Any qualified offer can be redeemed with an Ally Interest Checking debit card without managing coupons or points. Ally Perks will put the money back into an Ally Bank account within 24 hours.
eCheck Deposit
A major drawback to online banks is the difficulty involved with depositing a paper check. Ally's eCheck Deposit service solves that problem with scanner-based check deposits. The service began rolling out to customers in phases starting in April.
One can speculate that Ally Bank is developing remote deposit capture for smartphones when it releases a mobile banking application.
Great Timing
The recent enhancements by Ally Bank culminates in a timely opportunity to gain customers and market share. ING Direct, arguably Ally Bank's biggest competition, was just sold to Capital One, triggering customer unrest and possible customer defection.
The improvements will prove to entice ING Direct customers to find Ally Bank as the new home for their money.
Ask a Question