MyBankTracker.com Partners With Finovate, Offers Ticket Discount
FinovateFall will be returning to New York City to showcase the latest innovations in banking and financial technology – and MyBankTracker.com is going to be there to cover all the big announcements. We are also making it even easier to participate with a special discount offer.
FinovateFall 2011 will be taking place in Manhattan on September 20 and 21 where young startups and established companies will highlight cutting-edge developments in banking and financial technology.
As always, attendees typically include leading financial executives, venture capitalists, press, industry analysts, bloggers, and financial technology entrepreneurs – a networking opportunity on top of the many intriguing innovations being presented.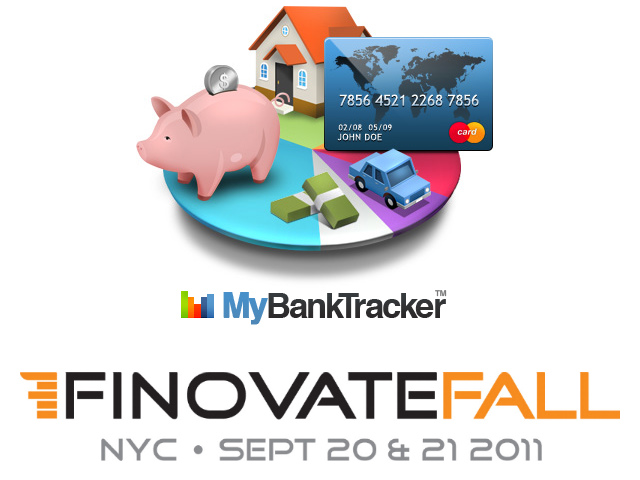 FinovateFall 2011 Details
Last year, FinovateFall sold out weeks before the event and the attendee size is expected to be even larger this year. FinovateFall 2011 will be held at Pier 92 in Manhattan, New York City, starting Tuesday, September 20 8:00AM to Wednesday, September 21 6:30PM. If you're not familiar with Finovate, the conference is a filled with fast-paced, 7-minute demos (no slides shows) from handpicked fintech companies whose goal is to push the envelope of technology within the finance space.
Past presenters include Mint.com, BillShrink, and yours truly. MyBankTracker.com most recently participated in the FinovateSpring 2011 conference in San Francisco, where we announced the launch of Plentifi, a community and open forum to discuss all money-related topics with the goal of obtaining financial success. (Watch MyBankTracker.com's Plentifi demo video here.)
Some of our favorites fintech companies and their innovations for the Spring show were:
BancVue (MoneyIsland)
Dwolla (FiSync)
Mitek Systems (Mobile Photo Bill Pay)
Wikinvest (SigFig)
To watch all of the presenter demos from FinovateSpring, visit www.finovate.com/spring11vid/.
In our partnership with Finovate, MyBankTracker.com readers now have the opportunity to take advantage of an additional 10% off the ticket price. Simply enter the discount code MyBankTracker10 to save 10%. If you register by June 24, you'll also be receiving very early bird pricing for a total discount of more than $300 the regular ticket price ($1,395).
For more information or to register for Finovate Fall, visit
www.finovatefall.com
.
Ask a Question