Top 4 Mobile Banking Apps From Appitalism
Appitalism.com, a website that combines a social community with an online app store, has devised a list of the top four apps to view your bank accounts, financial records and daily banking transactions on the go.
While mobile banking apps created by your financial institution are convenient and usually top-notch, many mobile banking apps developed by third parties can manage your finances over multiple banks and accounts. Appitalism included four of the best mobile banking apps in their opinion with the intention of promoting the best financial apps to manage your accounts and especially to avoid overdraft fees.
Read: An Extensive Guide to Mobile Finance: Banking Apps
Bankarama
Banakarama is well worth the small price attached to it when you consider how much you can save in knowing exactly how much is in your account at all times. Overdraft fees can accumulate into a small fortune, so Bankarama quickly records all transactions in as little as 2-3 seconds ensuring that the number you see is accurate.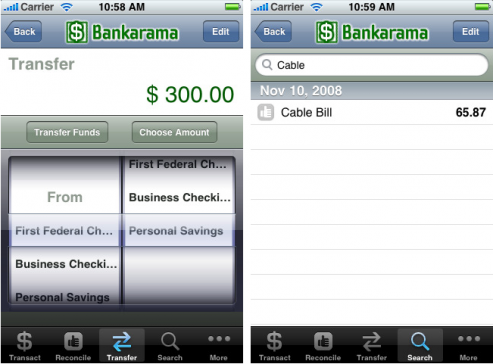 Other features are what you would expect from a banking app such as transferring money, searching for transactions and a passcode to protect information.
Available on the iPhone. Cost: $2.99.
Account Tracker Free
A free version of Account Tracker, this is an easy to use app which will allow you to manage your budgeting and expenses. You can track income, spending and balances across multiple accounts including checking, savings and credit cards and the app will separate them between business and personal.
You can perform transactions and even set up recurring ones straight from the app and you can perform them in many different currencies. Another nice feature is that you can add notes to help remember details of the purchase and you can search for those notes in the search bar.
What Appitalism found most important is that if an account is likely to go overdrawn, or hit its overdraft limit, an alert can be displayed when you start the application.
Available on the iPhone. Cost: Free
QuickBank Checkbook with Desktop Exporting
The beauty of this app, as its name implies, is that you can perform common banking functions like balancing your checkbook, viewing credit card charges and cash expenditures, and share all of this readily with Quicken, Microsoft Money, and Excel.
Some features include unlimited amount of accounts, categories and transactions. Like the others it performs account reconciliation and you can create recurring transactions, which means you can add and delete payees within the app. A cool, but sometimes tedious feature is the ability to photograph your receipts to store them with the transaction.
It also has a little "desktop" within it allowing you to create pie graphs and reports to track your spending and add notes to yourself.
Available on the iPhone. Cost: $0.99
Mobile Banking
A pretty standard mobile banking app as its name implies, which I guess is what we can come to expect from the severely underwhelming Blackberry market. Nevertheless, it suffices, allowing you to view your account balances, account history, make transfers, and pay bills immediately.
However, Blackberry does place a huge emphasis on security and this app falls in line.
Available on Blackberry. Cost: Free
Ask a Question