Ally Bank Now Offers P2P Transfer With Popmoney
Ally Bank customers will find one more new feature in addition to the new products and services recently launched: person-to-person payments through Popmoney.
Ally Bank customers can now send money to another person through email or mobile SMS or directly into a bank account with the Popmoney service.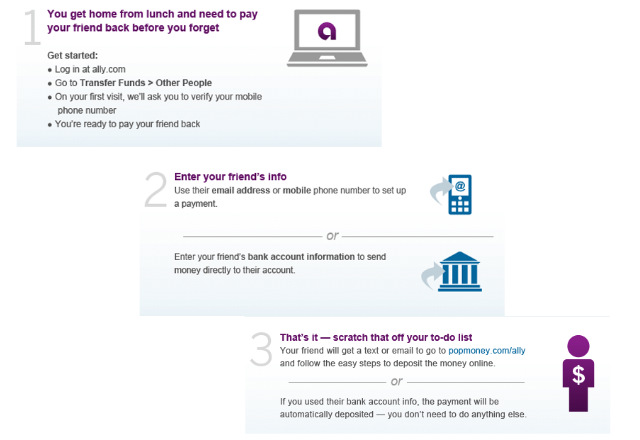 Customers can log into their accounts and enter the email address, mobile number, or bank account and routing numbers of the recipient.
If an email address or phone number is provided, the recipient will receive an email or text message with instructions to retrieve the funds and have it deposited into their account. With the recipient's bank account and routing numbers, customers can transfer money directly to the recipient.
"We're focused on finding the best ways to help our customers use their money, and this person-to-person payment service provides a convenient way to do so," said Diane Morais, deposits executive at Ally, in a press release.
Common uses for Popmoney include: splitting a restaurant bill, sending your share of the rent and utilities, cash gifts, or paying the babysitter.
Popmoney, a free service, is just one of the few announcements, in addition to the launch of IRAs, Ally Perks, and eCheck Deposit, that Ally Bank has made recently.
Read: Ally Bank Races Ahead With IRAs, Ally Perks, eCheck Deposit
Ally Bank is considered a latecomer to person-to-person payments as large banks and online banks have already introduced similar service to their customers. Other banks that use Popmoney include Citibank, U.S. Bank, and PNC Bank while banks such as Bank of America®, Chase, and ING Direct have their own proprietary P2P features.
The trend in the banking industry to enter the P2P payments space is intruding in the territory of PayPal, which was the dominant player until now.
Ask a Question