Card.io Challenges Mobile Payments Market with Software-based Platform
One more mobile payments platform company has joined the fray to offer services for that want to make credit card payments using their smartphone without the need for additional equipment.
Card.io, a San Francisco-based start-up, recently announced its receipt of $1 million from a number of angel investors to fund the development of its mobile payments software. The company's investors include individuals from SoftTech VC, K9 Ventures and AdMob.
What Card.io is attempting to do is make mobile payment platforms dependent on hardware like swipe scanners and keypads a thing of the past. After taking a picture of their credit cards using the mobile phone, Card.io's software then reads the card and processes the payment. The company was formed by Mike Mettler and Josh Bleecher Snyder, two former AdMob employees.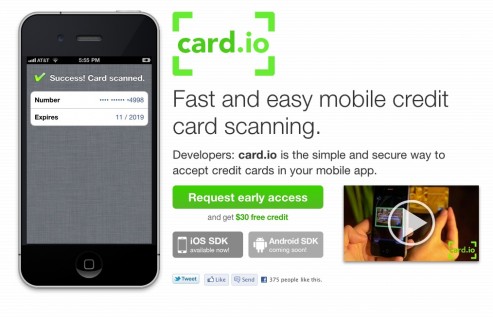 "Tons of innovation is already happening at the physical point of sale for in-person transactions. We're doing something different. Mobile checkout for ecommerce needs a rethink" said angel investor Michael Dearing of Harrison Metal in a statement. "Card.io's software-only service lets developers build mobile checkout right into their app. It turns any smartphone with a camera into a cash register."
Card.io says on its website that its technology is secure because credit card numbers are never saved, while all data is encrypted and hosted in secure facilities. Those that sign on for Card.io's services can expect to pay 15 cents per scan, though the company is currently running a $30 credit offer to those that sign up for early access.
While Card.io's services would seem ideal for small retailers, the company says it's instead targeting iOS developers in e-commerce, local, ticketing, travel and daily deal apps. Some of the most recent companies to sign on for Card.io's services include mobile ticket provider MogoTix, task performance start-up TaskRabbit and digital donation collection company SammaSource.
A number of mobile payment platforms has increased in recent years as smartphones become more popular amongst consumers. Survey results released earlier this year by market research firm Brand Anywhere and Luth found that by the end of 2011 half of U.S. wireless subscribers would own a smartphone.
Read: Smartphones: The Future of Shopping
View the video below to learn more:
Ask a Question