Mobile Commerce Company ViVOtech Nets $24 Million For Global Expansion
Near field communications company ViVOtech has closed on a $24 million funding round expected to help the company expand its reach across the globe.
The Series C funding round was extended by a number of old and new investors that included Citi Ventures, Alloy Ventures, SIngTel Innov8 and Motorola Solutions Venture Capital. The cash will be used to fund ViVOtech's expansion beyond the 35 countries it currently operates in.
"We particularly welcome our new investors from Singapore, EDBI and SingTel Innov8, and Motorola Solutions," said the company's CEO Michael Mullagh in a statement. "In and of themselves our investors represent a mini NFC ecosystem. By collaborating with them and our partners and customers, we will stay on the leading edge of innovation and the development of merchant and consumer friendly applications."
ViVOtech's products allow for NFC payments at establishments like movie theaters, fast food restaurants, casual dining establishments, convenience store and gas stations. Since being founded back in 2001, the Santa Clara, Calif.-based company has partnered with telecommunications companies and merchants that include MasterCard, Bank of America®, Sprint and McDonalds.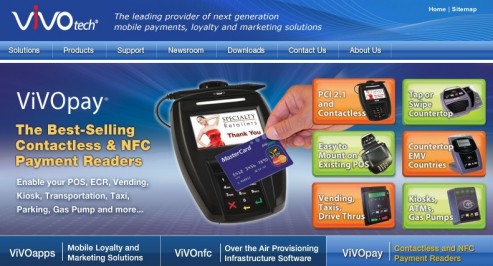 Mobile Commerce Investments Grow:
Citi Ventures, one of ViVOtech's original investors and the venture investment arm of Citigroup (NYSE: C), has been making waves in the mobile commerce market as of recently. In addition to its new investment in ViVOTech, Citi Ventures also made an undisclosed strategic investment in San Francisco-based mobile payments provider Billing Revolution on June 21. DCM and SK Telecom Ventures invested $6.6 million in Series B funding in Billing Revolution just two weeks prior.
At the time, Citi Ventures managing director Christopher Kay said his company wanted to "help design the future of money" for its global clients.
"We look to invest in startups with great teams and unique, defensible IP that solve global challenges" said Kay in a statement. "Billing Revolution fits that bill, and we are pleased to be able join DCM and SK Telecom Ventures in this latest round of financing."
Citi Ventures representative Janis Tarter declined to disclose both amount of the company's investment as well as Citi Ventures future investment plans for Billing Revolution.
More recently, Intuit Inc.'s banking services arm acquired assets of mobile web banking technology firm Mobile Money Ventures—a joint venture of both Citi Ventures and SK Telecom.
Read: Intuit Financial Services Expand Mobile Banking Business
Ask a Question