Local Spending Trending Among Americans
Lately Americans have been putting a lot of emphasis on going green by buying organic foods and recycled materials, but now Americans are focusing their purchases even further to support their neighborhood economy by "buying local."
When you walk down the supermarket aisle, labels touting messages like "all natural" and "100% organic" pop out from every conceivable product. No commodity is safe from this invasion, and perhaps a new trend is spawning from this one, only now to support "American-grown" products.
A survey called Eco Pulse, now in its third year of identifying consumers' green habits, tracks a number of additional green consumer issues, such as product marketing perceptions, purchase drivers and topical knowledge.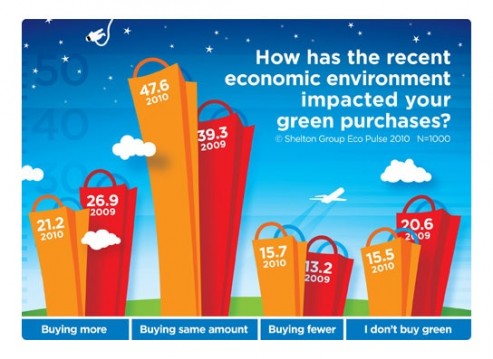 According to the survey, which is conducted by an advertising and research firm called Shelton Group who focuses on marketing green products to mainstream Americans, when asked "Which is the best description to read on a food label?", 25 percent of consumers voted for "All natural," 24 percent went for "100% organic," and a surprisingly high 17 percent preferred "Grown in the USA."
Read: Is Going Green Worth The Green?
This may seem a bit contradictory because Americans are so used to receiving fresh grown products whenever they want, like strawberries in the winter and even fruits and vegetables that don't natively grow in the United States.
However, president of Shelton Group Suzanne Shelton explained that the popularity of 'Grown in the USA' reflects three important trends: Americans are increasingly worried about food contamination and crop fertilization in other countries; there is growing support for family farms and local sourcing — a trend that's gone mainstream in the last several years, including at Walmart; and finally, and perhaps most importantly, people want to support their fellow American's businesses.
A company called Independent We Stand has taken this very concept even more local by educating consumers on how they help their community by buying from stores near their homes. They even created an online calculator that shows consumers the economic impact of spending at locally owned businesses. Based on the fact that $100 at an independent business puts $68 back into the local community, versus only $43 when its spent at a national chain, they can calculate the local impact on each community.
Just $10 each month at local stores in the New York-Northern New Jersey-Long Island metro area would inject over $553,831,848 back into the local economy through payroll taxes and other local expenditures. That leads to better schools, better roads and more support for other civic necessities such as police and fire departments.
You can visit their website to find out what kind of impact local spending will have on your community, or click here.
Ask a Question