Charles Schwab's 'Clients Speak' Lets Consumers Rate Service
Transparency in finance by way of consumer ratings and reviews is one of the primary focuses of MyBankTracker.com, and it comes as no surprise that banks themselves are promoting the very same, as Charles Schwab launches Clients Speak to allow online ratings and reviews by its clients.
While it's easy to find reviews on restaurants and hotels, such a space for financial institutions is narrow and limited. Charles Schwab is the first major U.S. brokerage firm to create and implement a tool that enables clients to give feedback that can be publicly viewed and is accessible to anyone who wants to find reviews from real clients about their experience with Schwab.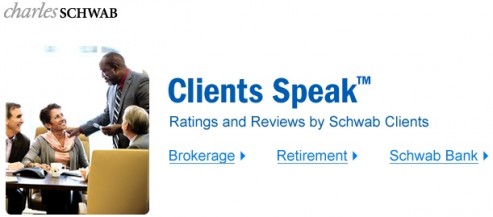 According to the firm, customers will initially have the ability to rate just the three core account areas: brokerage, retirement and banking services. Then, in August the site will be fully interactive and the ratings will expand to incorporate a five-point scale in areas including investment help and guidance, web site features, and fees and commissions.
To join many others and contribute a review of your experience with Charles Schwab on MyBankTracker.com's Bank Consumer Review page, click here.
What about negative press?
While this also allows for criticism, Jonathan Craig, senior vice president of Schwab Investor Services, says it's worth opening the floor to all users for the sake of transparency. "We are very comfortable exposing our client experiences as publicly as possible," he says. They will use the reviews to be more productive, educating themselves as to why people may be upset or satisfied and adapting as the case may be.
Also, of course, not every opinion will make it into the ratings portfolio. Comments will be doctored to make sure customers aren't bashing the competition or revealing sensitive information. And, foul language is prohibited.
Users are happy that this service has come into reality. Since after every call clients are asked to rate their experience, now that so much interaction with the firm (and indeed most companies) takes place online, this is a logical next step for Schwab and for the industry.
Schwab worked with Bazaarvoice, an unaffiliated company that has experience in social commerce and the customer's voice, to implement Clients Speak. Its clients include Cisco, Avon, Dell and Macy's.
Ask a Question