Staying Local for Fourth of July as Travel Declines
Finally our magnificent Independence Day approaches, and this year on a Monday, so it should be a great three-day weekend filled with the usual fireworks and barbecues. One thing that will change from last year; the amount of people planning on traveling.
According to AAA, Americans are preferring the staycation this Fourth of July, as fewer will be driving or flying long distances over the holiday weekend compared to last year. About 39 million Americans will be traveling 50 miles or more this weekend, which is a 2.5 percent decrease nationwide from last year's 40 million, AAA reported based on a nationwide survey.
Gas is the culprit again
This decrease in the number of Independence Day travelers is probably, not surprisingly, largely a result of high gas prices that are now averaging in some places about a dollar more per gallon year over year. As of June 26, according to AAA's Fuel Gauge Report, the national average price for a gallon of regular unleaded gas was $3.57 compared to $2.75 a year ago.
However, gas prices are down about $0.23 since last month, so hopefully those that did not want to blow all their gas money on Memorial Day last month have saved enough up for this holiday weekend.
These increases in the fuel costs are also responsible for a shift in the demographics of the typical Independence Day traveler, as higher prices obviously impact lower-income households more significantly.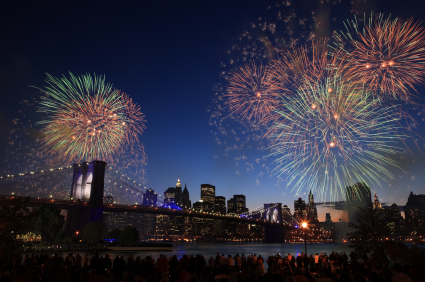 This shouldn't come as depressing news for the native residents of a number of cities, as Yahoo! Travel released the top destinations for Fourth of July Weekend this year. Here are the top three:
New York: The Annual Macy's Fourth of July Fireworks show, will feature more than 40,000 fireworks expertly synchronized set off from six barges. Boston: The fireworks show will premier right after the Boston Pops Orchestra concert next to the Charles River. Lahaina, Maui: Providing such a grandiose fireworks display, it will be visible from anywhere along the Lahaina waterfront.
Ways to save
Aside from attending a free fireworks show there are many other ways to stay entertained and also save money over the holiday weekend such as watching the parade, which takes place in many towns and cities all over the country. Check your weather forecast, and if there are sunny skies head over to the park with your bike or a frisbee. But most of all, if you plan on throwing a Fourth of July party, save money with these three simple tips:
Buy generic brands for your snacks and drinks and serve them on plates and in pitchers which looks nice and doesn't make you appear cheap. Soda especially can cost about double for brand names.
Serve homemade goods like cookies and cakes, and make iced tea or lemonade instead of buying.
Throw a potluck by hosting the party and setting it up, but having friends provide the bulk of the food so the burden doesn't all fall on you.
Ask a Question