Academic Achievements More Important Than Financial Ones
When you were a kid, did you ever run home to your parents shouting and screaming, shoving a math test with a big red "100%" on the top into their face? Did you do the same thing with a new savings account earning a solid 4.5 percent APY?
It just wouldn't seem normal if the latter case happened with your own child, and according to the latest poll results released by Northwestern Mutual Foundation's financial literacy website, Themint.org, it's not something we have to worry about any time soon.
The most recent poll marks the fourteenth in an ongoing series of polls with the ultimate goal of promoting financial literacy and creating awareness about these very important issues. Accordingly, the poll found that 47 percent of children try hardest in "academics (reading, writing, math)," compared to just 5 percent who said their most important goal is "setting a budget for saving and spending."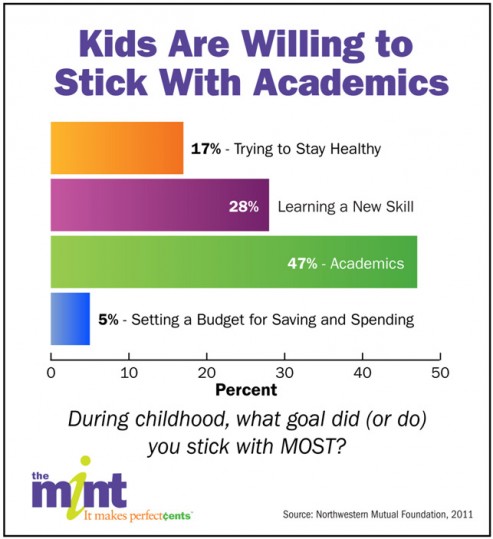 When asked specifically about how they felt about their accomplishments, 45 percent of the children were most proud of "receiving good grades" versus just nine percent who were most proud of "saving money to buy something special."
Gender differences don't change anything
Academics aside, there were strong differences between boys and girls, but neither of them really took charge when it came to finances (let's see how long that lasts). Boys showed a penchant for improving their athletic and musical skills (46% vs. 15% for girls), while almost a third of girls focused on "trying to stay healthy" (30% vs. 1% for boys). And, falling in dead last for both boys and girls alike came "setting a budget for saving and spending" (4% and 6% respectively).
This seems about right as young children should generally be focusing on academics and their parents should be taking control of the finances.
This indicates that parents are doing a fine job in training their kids to focus on their studies and do well in school, while a few very proactive parents are also introducing their kids to proper budgeting and effective financial management. However, kids rarely handle enough money to accumulate substantial savings, so really only very basic principles need to be established. Credit and APY do not normally factor into monthly or even weekly allowances.
Is this a problem?
Probably not. There are many tools to teach children financial literacy at a young age from banks and organizations, like Themint.org, but they should be guides in introducing kids to finances. Children should not feel stressed about finances or delve too deep too fast. Nevertheless, since long-term financial security is crucial for success and stability, parents can help children by providing positive reinforcement and encouraging them to set and reach financial goals. It can start as early as parents want.
"It's never too early to help children develop good financial habits. We can start by teaching them to set small goals – such as saving a portion of their allowance money – and track their progress," said Rebekah Barsch, Northwestern Mutual vice president, market strategy and training and mother of two. "Sound financial habits are formed just like other worthwhile skills—it takes practice, commitment, and reinforcement."
Ask a Question