ING Direct Runs Financial Independence Days Sale
(ING DIRECT is now Capital One 360, Orange Savings is now 360 Savings and Electric Orange is now 360 Checking.)
As the anniversary of America's independence approaches, ING Direct invites customers to embrace for financial independence with special offers.
ING Direct is back with its limited, two-day Financial Independence Days Sale that includes six deals only available from July 1 to July 2.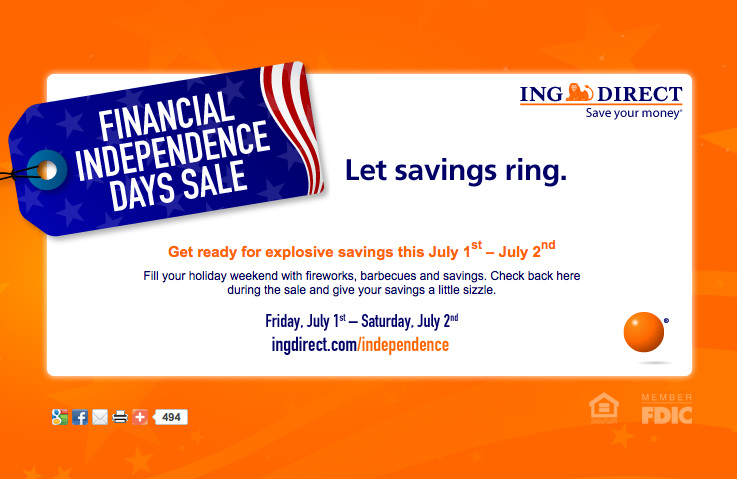 So before you head out to enjoy the nice weather on a long July 4 weekend, take a peek at some of ING Direct's deals that could put more money in your pockets.
1. Open an Electric Orange checking account and receive a $50 bonus after making a total of 3 purchases using your debit card or Person2Person Payments (or any combination of the two) within 45 days. Plus, earn an additional $76 for having two direct deposits of at least $50 by August 31.
2. Open a ShareBuilder account, allows to invest in your choice of stocks, mutual funds, and ETFs, and receive a $76 account bonus after executing your first transaction.
3. Apply online for an Easy Orange or the Orange Mortgage or call a Mortgage Specialist and get up to $1,776 off closing costs – the loan must fund before September 30, 2011.
4. Open a Savings IRA with at least $1,000 deposited by July 8 and receive a $76 bonus (currently earning 1.00% APY). Note that the bonus will count towards your annual contribution limit.
5. Get 17.76% off your purchase at shop.ingdirect.com when you enter Coupon Code: 1776. Merchandise for sale include bikes, backpacks, credit monitoring plans, clothing, and educational books.
6. Receive a $76 bonus when your send out to successful referral emails to 2 friends who open an Orange Savings Account with a minimum deposit of $250.
For those wondering, the bonuses correspond with the year 1776, when American colonies declared their independence.
"Independence Day is a time when Americans make certain to celebrate, enjoy and be mindful of the many freedoms of our nation," said Arkadi Kuhlmann, President and CEO of ING DIRECT USA in a press release. "This year, ING DIRECT encourages Americans to also commemorate their financial freedom by paying tribute to their savings."
The deals are available from Friday July 1, 12:00AM ET to Saturday, July 2, 11:59PM ET. For more information on ING Direct's Financial Independence Days Sale, click here.
Ask a Question