PayPal Money Market Fund To Close In July
PayPal customers take note: the company has decided to permanently shut down its Money Market Fund as a result of poor market conditions.
The company began sending out emails to account holders yesterday announcing its plans to shut down the fund on July 29. Those with funds in money market accounts can expect any undisbursed dividends they've earned on their PayPal accounts to be transferred to their traditional PayPal accounts after the fund officially closes and won't have to take any further actions.
If you haven't already received an email about PayPal's plans, here's the email I received: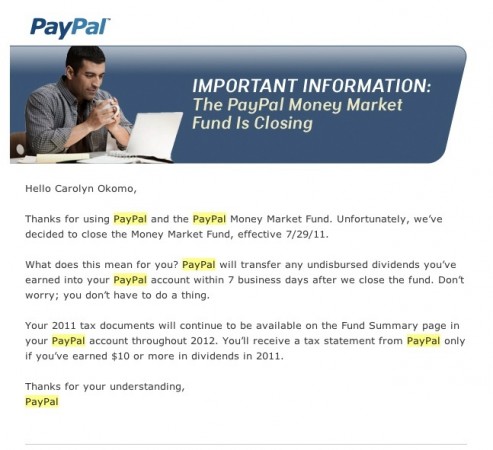 Market Conditions Fuel PayPal's Decision to Close Fund:
Paypal said on its website that its fund was closing due to "market conditions." If you earned less than $10 in dividends using the fund in 2011 then you won't be required to pay taxes on it.
Funds placed in a PayPal Money Market fund are not insured or guaranteed by the FDIC or other government agencies. The fund was formed in June 2009 as a way for PayPal customers with cash balances to invest their cash, and PayPal customers who with standard accounts were automatically enrolled into the service.
As of June 26, the average 7-day yield on Money Market fund accounts was 0.05%. While the fund did intend to maintain a $1 share price, both its prospectus and website indicated that it was possible to for customers to lose money in the fund. The fund performed at its best in the second quarter of 2000, when it realized a 1.42 percent return on its investment. It performed at its worst both in the third and fourth quarters of 2009, when it saw a 0.02% return on its investment.
The fund's best year was in 2000, when it saw an overall return of 5.56 percent, while its worst year was in 2009, when it saw a 0.23 percent return. It's average annual returns over the past five years has been 3.20 percent, while its average annual returns over the past ten years is 2.87 percent. In comparison, three-month U.S. Treasury bills have seen overall returns of 3.04 percent and 3.00 percent over the past five and ten years.
Click here to read the full prospectus.
Ask a Question