BillMyParents.com Set for a Post-Durbin Market
With a name that is bound to catch the attention of both teens and their parents, San Diego based company BillMyParents is a publicly traded company that could really be in the right place at the right time, thanks to new government regulations that are set to take effect later this year.
Launched in 2009, BillMyParents.com (NYSE: BMPI.OB), was designed as an alternative to PayPal, where kids could shop online, selecting what they want, then at checkout, redirect the bill to their parents via an email alert to PC or mobile phone. From there, parents were expected to login and complete the payment process using a registered MasterCard, Visa, and/or Discover Card.
At the time the company charged $0.50 per transaction. It was a great idea, kids get to shop online and parents can monitor their purchasing habits. For today's generation it seemed like a perfect direction to teaching teens smarter spending habits. Unfortunately, it seems the idea wasn't a success, because BillMyParents has shifted their focus to be a fully prepaid debit card service. In a space that is quickly becoming cluttered, thanks to major issuers like American Express and mega retail shops like Walmart joining the movement, BillMyParents would appear to be in a no-win scenario, which would be further compounded if not for a recent change by the government (Durbin Amendment) that determines how banks implement swipe fees.
As we have reported in the past, studies have shown that prepaid cards offer fewer fees than checking accounts, and this was before the new swipe fee rules were approved. With expectations that these new rules will lead banks to introduce new fees, more requirements and less rewards, if traditional debit cards indeed become unprofitable, prepaid cards will step into that space.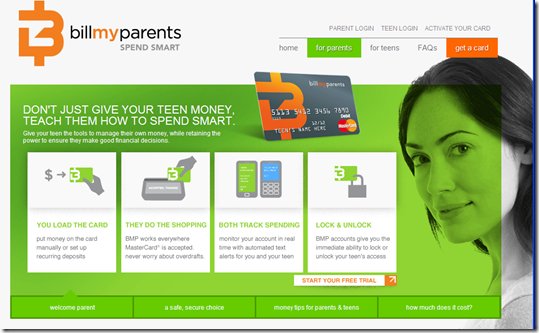 Lately, our opinions on prepaid cards targeting teens generally haven't been positive, so while reviewing BillMyParents, it was a little bit disappointing to see MTV's Rob Dyrdek's Fantasy Factory as a spokesperson. Looking past this, we figured it was worth checking out their offer to see if it is any different and if teens and parents should consider it.
Overall, the product is very similar to what you would expect with any other prepaid debit card. Sadly, the unique feature that represented BillMyParents in the past is now gone. Still focused on helping children, teens and young adults between the ages of 8 and 21 to manage spending, parents and kids have the option of setting different levels of freedom. BillMyParents offers real-time alerts, which will help track spending as well as catch purchases that could seem suspicious. In situations where the purchase is unauthorized or the parent feels their child is on spending spree, they can instantly lock the teen's card.
BillMyParents seems to understand the space and recognizes the opportunity. Since December of last year, when their prepaid card was just an added feature, the company has taken the time to restructure their fee schedule. No longer do they change start-up fees, once $9.95, and they cut load fees from bank accounts in half to $0.75. Their approach to overdraft has stayed the same (don't offer it) and the monthly fee of $3.95 has also remained unchanged. One area they do seem to beat out the competition is in ATM-Fees, only charging $1.50 compared to the average $2 we normally see.
In the end, as with BillMyParents, most prepaid offers are pretty much the same. Families considering this route need to compare features to fees and choose wisely. Thankfully, if we are to see a post-Durbin market dominated by this type of product, at least competition will drive fees down.
Ask a Question