Do Customers Need More Bank Branches?
With the evident increase in non-branch banking, banks must weigh their strategies to either cut back on a physical presence, or continue striving for exceptional customer service on a personal level.
As tech companies usher in an age of mobile ubiquity, consumer banking has transitioned to decreased reliance on face time with a human. Rather, online banking and, recently, mobile banking has swept the population that has become adept to Internet-based account management.
Following the announcement of the purchase of ING Direct, a Capital One investor presentation showed a chart depicting a 30% decrease in branch banking (visiting at least once in the last 12 months) since the early 1990's.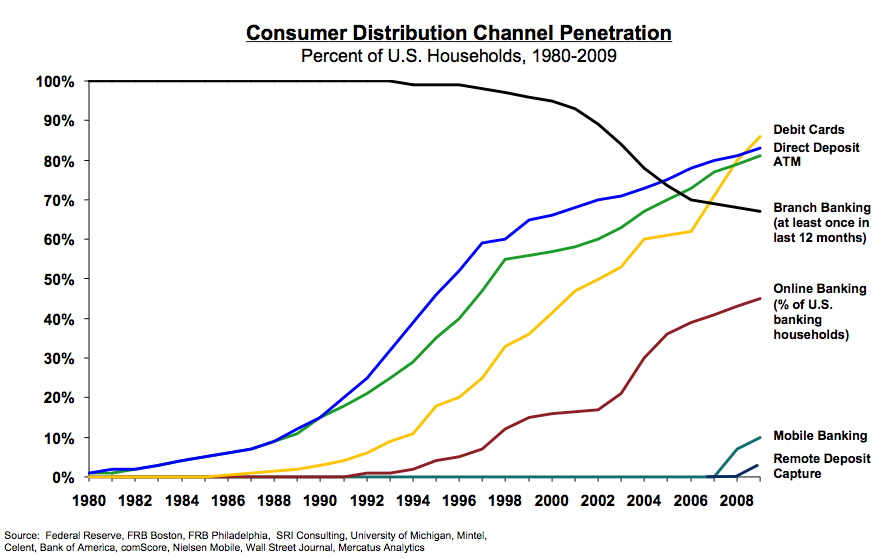 Meanwhile, ATM banking rose nearly 60% and online banking is conducted in over 40% of U.S. households. Roughly 10% of consumers engage in mobile banking, arguably a result of the explosive growth of the smartphone market and mobile banking applications.
Read: Financial Accounts Accessed By 30 Million U.S. Mobile Device Users in Q4 2010
Bank of America®, the nation's largest bank by deposits, has announced plans to shutter up to 10% of its 5,800-branch network by the end of 2014. "Last year, about 82% of all service transactions occurred within self-service channels," said Joe Price, president of consumer and small business banking at Bank of America®, in March.
Recently, Connecticut-based Webster Bank, with $18 billion in assets, decided to close branches due to more customers using electronic banking.
Despite the boost in self-banking, institutions are not shying away from establishing a greater brick-and-mortar presence. "Bank centers remain very important as customers prefer to work with our associates either by phone or in banking centers to resolve problems and service request," Price noted.
Our customers continue to tell us that having a physical branch presence is critical.
Chase, the third largest U.S. bank by deposits, stands as a leader in mobile technology with native smartphone and tablet applications that offer person-to-person payments and mobile check deposits in addition to basic mobile banking services. Yet, it has announced plans to expand its 5,300-branch network by add 1,500 to 2,000 branches of over the next five years mainly in California and Florida.
"We are going to listen to our customers – our customers continue to tell us that having a physical branch presence is critical," said Charlie Scharf, head of JPMorgan Chase Retail Banking.
Citibank, ranked right behind Chase, plans to open 200 new branches – on top of its 1,000 branches in the U.S. – across the country by 2013.
While there are enhancements in ATM technology, such as single-slot deposits and virtual teller ATMs, and mobile banking, the biggest banks are sticking to the notion that consumers want to be able to visit a nearby branch.
From a consumer perspective, the majority of everyday banking transactions can be conducted at an ATM, online, or on the phone. Younger generations may have become familiar with banking through these channels and find very little need to talk to a teller or associate.
However, older folks tend to be accustomed to traditional banking with a human touch, in which they find safety and reassurance. Also, they belong to an age group that are more likely to have saved a large amount of money – ideal targets for bankers looking to cross-sell products and financial services.
Customers may not need more branches but banks have determined that they are needed to penetrate new markets and to "sell" more. Maybe that's why many banks call them "stores" as opposed to "branches".
Follow Simon in the MyBankTracker.com Community and on Twitter: @simonzhen.
Ask a Question