Calculators Make College Prices More Transparent
We have been relentlessly demanding transparency in banking, transparency in credit cards and now transparency in college tuition. By law, some colleges with the steepest tuition hikes will have to file a special report to the government explaining where they got the numbers.
If you perform a Google search of college tuition or something thereabouts, it will spit out a slew of headlines about tuition rising in almost every college across the country. However, if you hack through all the depressing news you may find a new site launched by the U.S. Department of Education called the College Affordability and Transparency Center.
The goal of the website is to enable people to make a more informed decision about the schools they are looking to attend by showing the full price of college including any offsetting scholarships and grants. The main feature is a tool showing which schools charge the highest and lowest tuition and net prices, as well as which have been increasing tuition at the highest rates.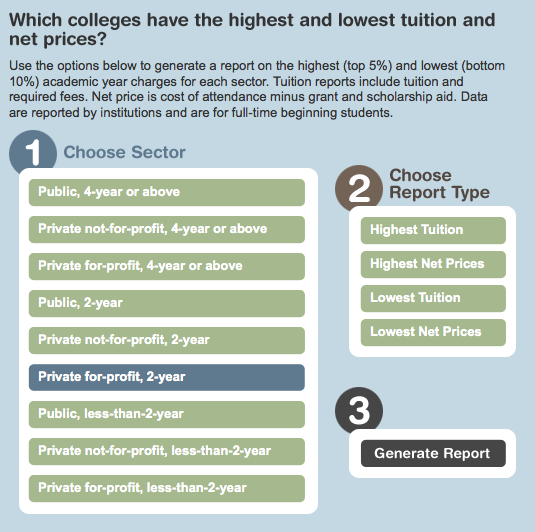 This is one of the effects of the Higher Education Opportunities Act of 2008, and it marks the first time the government had to rank American universities by affordability in a list due to such outrageous tuition climbs; some public state universities doubled their sticker prices in a few short years.
Cooperation between the government and the universities about pricing is crucial. Colleges have been steadily raising prices for about a century now, recently because of cuts to federal aid, causing people to wonder if the degree is worth it. However, they might even be happy to pay if they knew why it cost so much and what exactly they were going to end up paying in total.
More Transparency Ahead
This list is just the first step in what is sure to be a whole movement to expose the epidemic of high education costs.
The tool from the Department of Ed. comes out after a March press release announced that by the end of October, U.S. colleges must meet a federal requirement to create online "net price calculators," which will be posted on the college's websites. However, they have received mixed reviews due to limited guidelines causing some colleges to provide more accessible and user-friendly calculators than others, according to a study by The Institute for College Access & Success.
"We found a lot of variation: some calculators were on web pages clearly aimed at prospective students, while others took much more digging to find. Some highlighted the required 'net price' figure, while others played it down. And some asked as few as 10 questions, while others required answers to more than 40," said the report's author, Diane Cheng. "Asking dozens of questions may lead to a more precise net price estimate, but it can discourage students from finishing the process and getting any estimate at all."
The Importance of Calculators
Although it seems like the different calculators should be related, they really are neither complementary nor exclusive. The federal calculator exposes the worst offenders of tuition hikes, while the colleges' personal calculators show a student an accurate reading of how much they should expect their respective college to cost.
However, these moves will allow all interested parties including trustees and alumni, to know how much college costs and where the money is going. Perhaps some of these exorbitant hikes are unnecessary.
Ask a Question